School of the Holy Beast
(1974)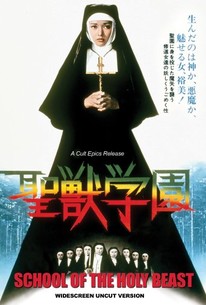 AUDIENCE SCORE
Critic Consensus: No consensus yet.
Movie Info
A young Japanese woman in search of her missing mother discovers a sinister secret deep within the Sacred Heart Convent in director Noribumi Suzuki's notorious nun-exploitation classic. After taking religious vows to gain entry into the convent where her mother was last seen, Yumi Takigawa descends into a hedonistic world where sinful archbishops and whip-wielding nuns torment her in the most unholy manner imaginable. ~ Jason Buchanan, Rovi
Rating:
NR
Genre:
, ,
Directed By:
Written By:
In Theaters:
On DVD:
Runtime:
Studio:
Toei Co. Ltd.
Critic Reviews for School of the Holy Beast
All Critics (2) | Fresh (2) | Rotten (0) | DVD (1)
in the whole nunsploitation subgenre, only Walerian Borowczyk's Behind Convent Walls (1977) comes close to the visual heights attained here.

If nothing else, School of the Holy Beast is unlike anything you've seen before.

Audience Reviews for School of the Holy Beast
Undercover nun. Really a rather well made nunsploitation film bent on offending Catholic sensibilities.
Michael Harbour
Seijû Gakuen (Noribumi Suzuki, 1974) There are certain movies that have attained almost legendary status in the horror underground, movies that were damn near impossible to find for many years, and tales grew up around them like weeds: Moctezuma's Alucarda. d'Ossorio's Tombs of the Blind Dead. Suzuki's Gate of Flesh. Greenaway's The Baby of Mâcon. Perez' Silip: Daughters of Eve. Dozens of others. Some of them have lived up to every last piece of hyperbole thrown at them (Seijun Suzuki, since getting the royal treatment from Criterion, has started being considered a Serious Artist(TM), and justifiably so), while when we finally got to see others, we generally wondered what in the world the people who spent so much time raving about these movies was smoking, and where we could get some (the most notorious example being Jodorowsky's almost unwatchable El Topo, which was obviously made by a lot of people who were smoking the same stuff). And one of the most notorious of these movies was Seijû Gakuen, released in English-speaking countries as School of the Holy Beast, and hailed by those who saw it the first time round as the nunsploitation classic, if you're into that sort of thing. The plot is relatively common in exploitation film that masquerades as mystery: a young woman's mother dies under mysterious circumstances, and now she goes undercover, as it were, in the mother's profession to find out what happened. (While it's more straight horror than nunsploitation, I recently reviewed a movie where the plot is an almost perfect copy; de la Madrid's 2005 flick La Monja, which is even worse than this.) In this case, the woman is Maya (Graveyard of Honor's Yumi Takigawa), and there's not much mystery about it once she actually gets there; it turns out this is one of those Catholic orders who are really, really into the whole mortification-of-the-flesh gig, and they really kind of expect the novices to go through superhuman tortures in order to get into the club. (Kind of reminds me of fraternity life circa 1979.) All of this, of course, leads to a great deal of nudity, much of it accentuated by nun habits, and sporting the weird incongruity of this being a Japanese convent (I'm sure such things exist, but in the west one tends to think of Shinto or Buddhism when one thinks of Japan, no?), all things which are sure to fire the fetishes of some folks; if your particular kinks lead you to Asian women in nuns' outfits, this is pretty much cinematic nirvana for you. Have at it. However, as with much pinky cinema I've seen (Suzuki, naturally, being the exception), if you're looking for such niceties as a strong script, well-drawn characters, or any but the flimsiest of frameworks on which to hang the perversion, you'll want to head elsewhere. **
Robert Beveridge
Norifumi Suzuki's "School of the Holy Beast" is quite a shocking picture develing into themes of torture, brutality, catholicism, and lesbianism. It is the usual story of a young girl who's mother has died(I guess at the Covenant) so she decides to find out what happened. It's a ridiculous film but I couldn't help but admire the cool camera angles and bright use of vivid colors. As for the characters? My guess would be the filmmakers were more interested in the torture and sex these characters go through rather then the human conditions aspect.
School of the Holy Beast Quotes
There are no approved quotes yet for this movie.
Discussion Forum
Discuss School of the Holy Beast on our Movie forum!