Scooby-Doo Meets The Harlem Globetrotters
(1972)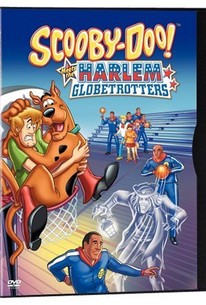 AUDIENCE SCORE
Critic Consensus: No consensus yet.
Movie Info
Timeless, captivating fun for children and fine nostalgic nonsense for adults, the Harlem Globetrotters episodes from the Scooby-Doo canon border on goofy anarchy. During the four-year run of The New Scooby-Doo Movies on 1970s television, the Mystery, Inc. gang of Fred, Velma, Daphne, Shaggy, and the preternaturally skillful canine hero Scooby-Doo hooked up with cartoon versions of many real-life celebrities (who provided their own voices).

The Harlem Globetrotters, a traveling comedy act showcasing basketball tricks and unsportsmanlike high jinks, had a core team of well-known performers, led by Meadowlark Lemon, who were naturally funny partners in Scooby's ghostbusting investigations. This disc contains two of the three HG programs, "The Mystery of Haunted Island" and "The Loch Ness Mess," the former a somewhat creaky, run-of-the-mill Scooby haunting, while the latter features a more interesting conspiracy for Shaggy and the others to crack. --Tom Keogh
Critic Reviews for Scooby-Doo Meets The Harlem Globetrotters
Audience Reviews for Scooby-Doo Meets The Harlem Globetrotters
Scooby-Doo Meets the Harlem Globetrotters is one of the more annoying and just plain terrible Scooby-Doo films I have seen. The sad thing is I remember liking this as a kid. I didn't remember anything about it revisiting for the first time in probably 15 years, and none of it impressed me at all. It had a terrible story, with terrible villains, and a terrible setting. It was all so lazy and it just feels like one big gimmick with the Harlem Globetrotters name being attached. If anything they just make it worse, as they are the most annoying thing in the movie. After running into the Harlem Globetrotters, Scooby and the gang get on an unmanned boat that mysteriously takes them to a haunted island where they find a mansion to stay in. From there, its the normal hijinks, except nowhere near as inspired nor fun. It's just lazy, that's the only word I can think of to describe it. Definitely not worth the time. I'm a fan of Scooby Doo movies and I can still watch the good ones to this day, but this is just garbage. 
Melvin White
Super Reviewer
Hell Yeah! Don't know if this is the same as the old cartoons featuring Meadowlark Lemon and the boys...
Chad Roesti
Super Reviewer
Scooby-Doo Meets The Harlem Globetrotters Quotes
There are no approved quotes yet for this movie.