Seven Faces of Dr. Lao
(1964)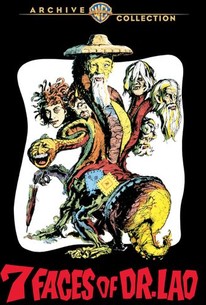 Seven Faces of Dr. Lao Photos
Movie Info
In this film, Dr. Lao, an enigmatic Chinese medicine-show impresario, brings his travelling show into the frontier town of Abalone, which is chafing under the oppression of land-hungry Clint Stark. Each of the townspeople learn a great many truths about themselves when they attend Dr. Lao's unusual circus.
Critic Reviews for Seven Faces of Dr. Lao
Audience Reviews for Seven Faces of Dr. Lao
In the most remarkable role and performance of his career, Tony Randall stars in this delightful fable about a mysterious Chinese doctor and magical proprietor of a circus that comes to a dusty Arizona town and generates a wave of good happenings. Dr. Lao assumes different guises in order to teach his message of pride and self-reliance to the townsfolk. Fine supporting performances by Barbara Eden, Arthur O' Connell and John Ericson. But it's Randall's virtuoso turn where he plays all six roles as Dr. Lao, Merin, Pan, The Abominable Snowman, Medusa, Apollonius of Tyana with the aid of elaborate make-up that won a special Oscar for Outstanding Makeup Achievement that is the heart of the wonderous film. One of my favorite childhood films a total joy. Highly Recommended.
Danny Rovira
Super Reviewer
½
Part western, part fantasy, this is the story of a strange Chinese man, played by Tony Randall, who drops in on a small town with his odd little "Circus of Dr. Lao". Arthur O'Connell plays a money-grubbing bastard who wants everyone to sell him their property so he can benefit from a railroad coming near town that only he knows about. There's also a budding romance between widow Barbara Eden and the new newspaper man in town, While the appearance of Dr. Lao seems coincidental, he and his circus help to resolve these issues. Director/animator George Pal held the reins here, and it had a bit of a Harryhausen feel to some of the animated sequences. While all the cast is satisfactory, Tony Randall really impressed me with his performance...or should I say performances? All the characters in the circus -- a fortune teller, a talking serpent, Medusa, a Yeti -- are played by Randall. I'm curioius as to why he ended up playing fey mincing types or whiny Casper Milquetoasts when he was apparently capable of so much more. A nice film for the family on a snowy afternoon.
Seven Faces of Dr. Lao Quotes
There are no approved quotes yet for this movie.