Someone Else's America
(1996)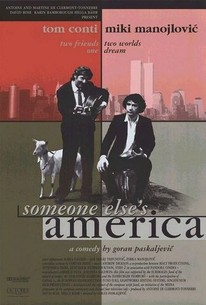 Movie Info
Immigrant friends living in a shabby corner of Brooklyn while they pursue the American Dream are the center of this comedy-drama from Serbian director Goran Paskaljevic. Tom Conti stars as Alonso, a Spaniard and owner of the Paradiso, a run-down bar where he lives with his blind mother and where his friend Bayo (Miki Manojlovic), an illegal immigrant from Yugoslavia, works as janitor in exchange for free room. The best of friends, Alonso and Bayo are united in believing that they'll succeed in the Land of Opportunity, despite much evidence to the contrary. Bayo's family then follows him to New York from Montenegro, but his beloved youngest son is drowned in the Rio Grande during the dangerous journey. Unable to cope with his grief, Bayo blames his eldest son, Luka (Sergej Trifunovic) for the tragedy. Luka, however, turns out to be the salvation of both his father and Alonso, transforming Paradiso into a trendy ethnic restaurant and marrying a Chinese-American girl in order to gain citizenship.
Critic Reviews for Someone Else's America
Audience Reviews for Someone Else's America
½
What a movie! This co-production from Yugoslavia / UK / France / Germany / Greece was a real life drama with few faults and lots of soul! Written by Gordan Mihic and directed by Goran Paskaljevic, at the time two of the Yugoslav movie creating legends, this movie takes you to the United States where follows immigrants (illegal and legal) living their life in the Big Apple. The story opens in Brooklyn, across the East River from Manhattan, where the skyscrapers loom like a steel-and-concrete promise forever beyond the immigrants' reach. Bayo (Miki Manojlovic), from Montenegro, has been in the United States for less than a year, doing odd-jobs for his Spaniard friend, Alonso (amazing Tom Conti). He tries to save as much money as he can working with a crew of other illegal aliens, wearing a gas mask and cleaning up toxic waste sites. Unexpected events, spurred by the desire of Bayo's oldest son, Luka (Sergej Trifunovic), find all of his family embarking on an ocean voyage to Mexico, where a "travel guide" agrees to take them north of the border. As they cross the Rio Grande -- Bayo's youngest son is swept away in the currents, and the family's subsequent reunion becomes a sad event... What is American Dream for these guys is not an American Dream for the others born in the USA! These people dream differently, think differently and do every single thing differently, adding colour, and passion, lots of love and action to the "black & white" dreaming time. Lovely story, amazing acting and very solid directing with few issues with the editing and the film and cameras used. I hope you'll have a chance to see it soon!
Someone Else's America Quotes
There are no approved quotes yet for this movie.