Something from Nothing: The Art of Rap
(2012)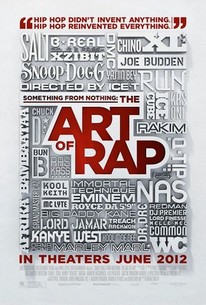 Something from Nothing: The Art of Rap Videos
Something from Nothing: The Art of Rap Photos
Movie Info
Ice-T takes us on an intimate journey into the heart and soul of hip-hop with the legends of rap music. This performance documentary goes beyond the stardom and the bling to explore what goes on inside the minds, and erupts from the lips, of the grandmasters of rap. Recognized as the godfather of Gangsta rap, Ice-T is granted unparalleled access to the personal lives of the masters of this artform that he credits for saving his life. Interspersed with the performers' insightful, touching, and often funny revelations are classic raps, freestyle rhymes, and never before heard a cappellas straight from the mouths of the creators. What emerges is a better understanding of, and a tribute to, an original American art form that brought poetry to a new generation. -- (C) Official Site
Rating:
R (for pervasive language including sexual references, and some drug content)
Genre:
,
Directed By:
In Theaters:
On DVD:
Runtime:
Studio:
Watch it now
Cast
News & Interviews for Something from Nothing: The Art of Rap
Critic Reviews for Something from Nothing: The Art of Rap
Audience Reviews for Something from Nothing: The Art of Rap
½
If your a big hip-hop head this is a classic. If your kind of into hip-hop this is one of the top documentary for you to watch to understand the art. I've watched many rap/hip-hop documentary but this one sums up the essence. I can't help but feel like Ice-T was very selective with how long he let each interview go, and can't help but feel like he held some jewels out on us.
Saeed Reza
I don't like rap to begin with, but seriously, this documentary was awful. It gave us nothing interesting or new really, I didn't see the point to it.
Daniel Plainview
Something From Nothing: The Art of Rap was "entertaining" in the same way an action-figure might be "entertaining" - for a divorced, balding middle-aged man. The Art of Rap (which I will refer to hereon as Ice-T's movie) is basically ultimate fanservice with no substance. It's meant to titillate the viewer with all the really "cool interviews" and "awesome freestyles bro!" from their favorite rappers, simultaneously feeding Ice-T's ego while doing so. Really. That's it. Watching Ice-T's movie for anyone who cares about Hip-Hop is like buying a video-game with all your favorite characters or teams, only to find out you can't do anything but watch the computer play them. Or watching a movie with all your favorite actors (a la The Departed) only to be pained and appalled by how shitty it is (New Year's Eve). It's an empty illusion. As a documentary or dissertation on Hip-Hop, it fails on so many levels that elucidating each one would require an attention-span I don't feel like providing to this film. Even as fanservice, Ice-T's movie still proves pretty crappy. Most of the freestyles are uninspired, many interviews just useless bantering, the skyscraper/skyline shots lazily put-together and unnecessary, and scenes like the one with the gawking fan and Q-Tip... A middle finger to video editing. The fact Ice-T put his movie out like this supposes he's either mentally retarded or completely narcissistic. Probably a mixture of both. Hey, I still enjoy Ice-T in Law & Order. Maybe that accounts for *something*.
Cole Thomas
Discussion Forum
Discuss Something from Nothing: The Art of Rap on our Movie forum!
News & Features