Son Of Sardaar
(2012)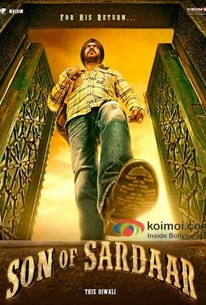 AUDIENCE SCORE
Critic Consensus: No consensus yet.
Movie Info
In the heartland of colorful Punjab, the larger- than- life Punjabis take pride about their hospitality & warmth but are mighty serious about matters regarding honor & dignity. Jassi, a peace loving happy-go-lucky Sardar, lives in London trying to make a living. He gets to know of his ancestral property back home in Punjab which he wants to sell off to shape up his pockets. Jassi embarks on a journey which takes him through a startling situation.
Rating:
NR
Genre:
, ,
Directed By:
Written By:
In Theaters:
Box Office:
$713,754.00
Runtime:
Studio:
Critic Reviews for Son Of Sardaar
There are no critic reviews yet for Son Of Sardaar. Keep checking Rotten Tomatoes for updates!
Audience Reviews for Son Of Sardaar
Yet another "leave your brains out" comedy by Ashwani Dhir. Just a few laughs scattered here and there, it's got nothing special. As an entertainer, it's a wee-bit better than JTHJ, the one it dragged in to controversy.
familiar stranger
Super Reviewer
"Son of Sardar" is capable of wielding the death knell for future Bollywood attractions in a western world. Erstwhile stars prostituted their reputations to work in this supercilious drivel: Ajay Devgan ("Halla Bol", "Omkara", "Yuva"); Sanjay Dutt ("Naam", "Parinetta" "Sadak, Saajan"), Salman Khan ("Veer", "Kuch,Kuch Hota Hai", "Maine Pyaar Kyun Kiya"); these men are fine, multitalented actors and I cringed with embarrassment for them. India, with it billion- plus population feeds its fantasies with super- heroes; capable of felling the swarthy dark -complexioned villains, flying like vampires or bats, championing the weepy, often whiney, "barely-saried" damsels in distress. The "Doom" series or anything with Arshay Kumar should more than satisfy the "action addicts". "Son of Sardar", unworthy of any stars (India is still vacillating with a rating system); revenge, at the Shakespearean/ Mafia level is the core of this jarringly, jeeringly ridiculous, inane thriller; blessedly the "talkers", "texters" "snorers" prevented me from succumbing to anaphylactic shock. JAI JAB TAK HAI JAAN (TILL MY LAST BREATH) Admittedly, I have a major bias when it applies to Shah Rukh Khan; after viewing at least twenty-five of his films; his versatility never ceases to overwhelm me; no matter the role he is always convincing: "Devads",doomed, bucolic, perpetually inebriated lover: "Asoka", a Prince and warrior who champions Buddhism; "Om Shanti Om", a reincarnated man seeking a righteous solution; "Don" a nefarious gangster; "Darr", evil incarnate; "My Name is Khan" a Muslim, living in the United States, afflicted with Aspergers, seeking to reconcile with his estranged wife. He is devastatingly -dimpled, handsome, ageless, and bleeds on the screen. Yash Chopra gifts audiences an epic tale of love, pathos, war and misguided religious angst. Told in flashback, commencing in the present day, we watch "Samar" (brilliant performance by Khan), defusing a bomb in Ladakh; he is a military "man who cannot die"; he inadvertently looses his diary, therefore, the ten-year unveiling of his journey from London to the troubled corners of the world, as a demolition expert. Samar's life as a carefree singer, waiter in London explodes when he sees gorgeous, entitled "Meera" (Katrina Kaif) praying, pleading, promising "Sir Jesus" what she will give up in exchange for grants from Him. Meera, engaged to a wealthy Englishman, predictably falls for the the enchanting Samar; her deals with "Sir Jesus" cripple their relationship. Beautifully filmed and acted by Khan and Kaif, exhibiting palpable chemistry, their pulsating dance number and "kiss" in London's underground is worth the price of admission. I found the character, "Akira" (Anushka Sharma) extremely problematic; a student documentarian, she reads Samar's diary, wheedles her way into his unit, assumes Samar will fall in love with her; she is naive, narcissistic, and her ceaseless effervesce, positively annoying, cloying. Lurking at the periphery; questioning the boundaries, rules, bargains made with a Supreme Being; Karl Marx stated that "religion is the opium of the people"; "Jai Jab Tak Hai Jaan" addresses, ponders what occurs when devotion, taken to extreme, becomes a curse, capable of obliterating reason. THREE STARS!!! For Now.....Peneflix
Peneflix Movie Reviews
Son of Sardar is a movie starring Ajay Devgan directed by Ashwani Dhir, known for his successful direction in Atithi Tum Kab Jaaoge and One Two Three. If you've watched any of these two movies, you know one thing. His movie doesn't really have plot but still does good on box-office because of its witty jokes and punches. Similarly, SOS doesn't really have a plot(or at least a convincing one). But that's not why its rated 4. The reason is that there is nothing in the movie to sit though its agonizing 2 and half hour. First half is good enough. With some jokes making you laugh. But it gets boring as the clock ticks by. A good joke looses its humor the second time. I really had high hopes from the movie as earlier comedy movies of Ajay Devgan had been really good like Golmaal 3 or All The Best. But this is yet another Bol Bachachan. Both being the remakes of movie most must've watched before. But its not all that bad. If you "loved" Bol Bachachan or One Two Three, give it a try.
Vivek Ramasha
Son Of Sardaar Quotes
There are no approved quotes yet for this movie.