Sorry, Haters
(2005)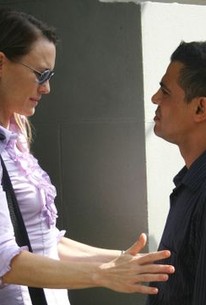 Movie Info
An embittered television executive working for a hip-hop-oriented music channel finds her fate intricately tied with a New York City taxi driver after hailing his cab for questionable purposes in director Jeff Stanzler's intimate look at the tenuous relationship between Caucasians and Muslims in post-9/11 America. Phoebe (Robin Wright Penn) hates her job at Q Dog TV, and focuses the brunt of her disgruntled rage squarely on co-worker Phyllis MacIntyre (Sandra Oh). During the course of their extended journey to Phoebe's suburban destination, troubled Muslim cab driver Ashade (Abdel Kechiche) confides to his passenger that the arrest of his brother on charges of suspected terrorism has thrown his family into chaos. Though the increasingly unstable Phoebe listens diligently to Ashade's tragic confession -- even offering to help the distraught Syrian chemist-turned-cab driver's struggling family -- it's only after arriving at his fare's destination that Ashade truly begins to grasp Phoebe's true nature and realize that he has made a grave mistake in placing his trust in her. ~ Jason Buchanan, Rovi
People Who Like this movie also like
News & Interviews for Sorry, Haters
Critic Reviews for Sorry, Haters
Audience Reviews for Sorry, Haters
½
wow what a movie...very realistic and an excellent performance by Robin Wright Penn...all I can say is see this movie!! Its a very disturbing and provocative character study...and yes, the ending will leave you speechless, and having you thinking long afterwards!
½
Pretty interesting, but intense.
[font=Century Gothic]In "Sorry, Haters", Phyllis(Robin Wright Penn) is an unstable and divorced executive for a music television channel in New York, looking to redeem her corporate job and make a difference in her empty life. One night, opportunity arrives when she hails a cab driven by Ashade(Abdellatif Kechiche), originally from Syria where he earned a PhD in chemistry. He spends all of his free time trying to gain the freedom of his brother who was deported and caring for his sister-in-law, Eloise(Elodie Bouchez). After he drives Phyllis out to her former home in New Jersey, she offers to help by contacting an attorney friend.[/font] [font=Century Gothic][/font] [font=Century Gothic]But then she asks Ashade if he is interested in retribution...[/font] [font=Century Gothic][/font] [font=Century Gothic][/font] [font=Century Gothic]"Sorry, Haters" is a believable allegory about terrorism and American culture that Robin Wright Penn keeps together through sheer force of will. The movie has more than its share of twists, but never entirely goes off the rails. On the other hand, it is less than original.[/font]
Sorry, Haters Quotes
There are no approved quotes yet for this movie.