South Park: Bigger, Longer & Uncut
(1999)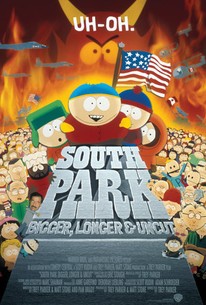 South Park: Bigger, Longer & Uncut Videos
South Park: Bigger, Longer & Uncut Photos
Movie Info
Trey Parker and Matt Stone bring the colorful citizens of South Park to the big screen in a film that is animatedly hilarious and irreverent. Based on the hugely successful Comedy Central series, South Park: Bigger, Longer & Uncut stars Kenny, Kyle, Stan, Cartman, Chef, Mr. Garrison, Ned, Uncle Jimbo, Officer Barbrady and others.
People Who Like this movie also like
Critic Reviews for South Park: Bigger, Longer & Uncut
Audience Reviews for South Park: Bigger, Longer & Uncut
South Park's jump to the big screen is very funny and makes many fine references, but there is a reason TV shows struggle in theaters. The writing usually wears thin due to films having a much longer runtime than TV episodes, and the scale of the stories are way too big and strange, both of which apply to this movie. However, buried in this chaotic mess is an honest message, hilarious moments and some catchy/clever show tunes. South Park is better on the small screen, but holds its own on the big one.
Sanjay Rema
Super Reviewer
½
Ahh... with some good old sarcasm, crude humour and simply rude. Love it.
½
More than an extended episode, this is a full length, theatrical film that actually has a message and purpose. It's basically the same message that most of South Park, as a show, is comprised of: censorship is biased and comes from a place of irresponsible overreaction. Staying true to the show, established characters are strewn throughout the film, including the four boys the show is based upon, their families, friends, and the adults that screw up their world time and again. Uncensored and inappropriate in a muted kind of way, creators Trey Parker and Matt Stone make this into a large scale epic film by making it a musical with numbers that spoof The Little Mermaid, Les Miserables, and Broadway in general. Parker and Stone capitalized on the fame of the show at its peak in 2001, not knowing it would be the long running vehicle that it has become. Saying that, it is amazing they didn't go farther with this, that they didn't go balls to the wall, even raunchier, even crazier. The film itself contains a war with our neighbors to the north, a relationship between Satan and Saddam Hussein, and a death toll at 312, including characters from the show. Since this film, some very horrific scenes have taken place on the show including pissing on tied up monkeys, Indiana Jones being raped by George Lucas and Steven Spielberg, and a waterpark being demolished by a typhoon of urine, so I don't say, underwhelming lightly. I will say that this film has a special place in my heart, right next to the juvenile humor and lackadaisical attitudes of my youth, which is when I first became acquainted with this show and all its vile glory. One of the songs, "Blame Canada," was nominated for an Oscar for Best Song, which was about the ill effects of censorship, though it could not be formally broadcast at the ceremony. The film, as a whole, is a great way to showcase the characters, and you will not be lost if you haven't seen the show. It might even be a great introduction to one of the more obscene shows on television, cartoon and all.
Spencer S.
Super Reviewer
South Park: Bigger, Longer & Uncut Quotes
| | |
| --- | --- |
| Eric Cartman: | Ay! Your holding up the goddamn lunch line! |
| | |
| --- | --- |
| Chef: | Oh, good job Mrs. Broflovski, thanks a lot! |
| | |
| --- | --- |
| Eric Cartman: | Damn! Shit! Respect my fucking authority! |
| | |
| --- | --- |
| Stan Marsh: | Oh my god! They killed Kenny! |
| Kyle Broflovski/Kenny McCormick: | You bastard! |