St. Elmo's Fire
(1985)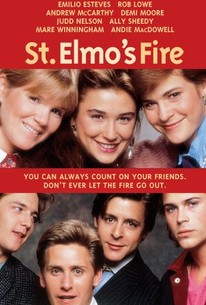 St. Elmo's Fire Videos
St. Elmo's Fire Photos
Movie Info
Featuring an ensemble full of beautiful and talented young actors, this comedy drama centers an a septet of Georgetown graduates who fret about their futures.
Rating:
PG-13 (adult situations/language)
Genre:
,
Directed By:
Written By:
In Theaters:
On DVD:
Runtime:
Studio:
Sony Pictures Home Entertainment
Cast
News & Interviews for St. Elmo's Fire
Critic Reviews for St. Elmo's Fire
Audience Reviews for St. Elmo's Fire
It plays like a rejected backdoor pilot for a coming-of-age prime time TV drama series, with not very interesting storylines despite the good acting - and it does not help a bit that the characters and their personal conflicts don't get enough individual screen time to fully grow on us.
Carlos Magalhães
Super Reviewer
½
It's really quite enjoyable - the humor, the drama - but it just doesn't make much sense to me. All these friends have such disparate personalities that there's no way they would all hang out and remain friends after college - and that's not even speaking of Wendy's completely baseless infatuation for Billy. My friend pointed out that my own circle of friends have vastly different characters, but we coexist because we've had the benefit of hanging out a lot in real life. The St. Elmo's gang are never shown "just hanging out." They're always doing something, getting into trouble, plotting grand gestures - all these huge moments of which culminates in an overwrought, melodramatic climax that of course brings them all together. The explanation of the title also doesn't hold much water.
Alice Shen
Super Reviewer
You can always count on your friends. Don't ever let the fire go out. Very good movie from the 80's! The music from this movie is phenomenal. I think the reason I love this movie despite all its flaws is it makes me put my life in perspective and think about the friends and decisions I have made. Every time I hear the love theme I can't help but feel sentimental. Admire what it wants to say. Take it for what it is. I really enjoyed what this film was about. And it made me feel a bit better about life, after all, we're all going through St. Elmo's Fire. Go see it! Seven friends - Alec, Billy, Jules, Kevin, Kirby, Leslie and Wendy - are trying to navigate through life and their friendships following college graduation. Alec, who aspires to political life, has just shown his true colors by changing his allegiance from Democrat to Republican, which freaks out girlfriend Leslie, who he wants to marry. Budding architect Leslie, on the other hand, has an independent streak. She believes she has to make a name for herself to find out who she is before she can truly commit to another person in marriage. But Leslie and Alec have decided to live together. Because Leslie refuses to marry Alec, he believes that justifies certain behavior. Kirby, who wants to become a lawyer and who pays for his schooling by working as a waiter at their local hangout called St. Elmo's Bar, and struggling writer Kevin are currently roommates. They are on opposite extremes of the romance spectrum. Kirby has just reconnected with Dale Biberman, a slightly older woman he knew in college who is now a doctor. He is madly in love with her and will do *anything* to impress her. Kevin, on the other hand, doesn't date and states he doesn't believe in love, making his friends speculate that he's a closet homosexual who is secretly in love with Alec. Kevin will eventually open himself up to the one friend who matters the most. Billy, married with a child, is the irresponsible one of the group who would rather sleep around and play the saxophone than face the realities of being an adult with family commitments. He still lives for the memory of his fraternity glory days. Virginal and sheltered Wendy, who comes from a wealthy family, works in a low paying social services job. Her family provides for all her financial needs. She is in love with Billy, who in turn takes advantage of her adoration of him. And most are concerned about Jules, who works in a bank, lives a life of excess in all facets and doesn't have the financial means to live that lifestyle. The question for all seven becomes whether their friendship can survive adult real life.
Discussion Forum
Discuss St. Elmo's Fire on our Movie forum!
News & Features