Star Wars: Episode II - Attack of the Clones
(2002)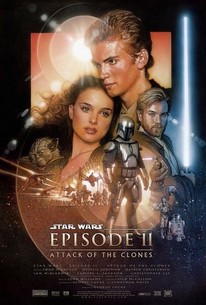 TOMATOMETER
AUDIENCE SCORE
Critic Consensus: Star Wars Episode II: Attack of the Clones benefits from an increased emphasis on thrilling action, although they're once again undercut by ponderous plot points and underdeveloped characters.
Star Wars: Episode II - Attack of the Clones Videos
Star Wars: Episode II - Attack of the Clones Photos
Movie Info
The second prequel to the original Star Wars trilogy takes place ten years after the events depicted in Star Wars: Episode I -- The Phantom Menace. Now 20, young Anakin Skywalker (Hayden Christensen) is an apprentice to respected Jedi knight Obi-Wan Kenobi (Ewan McGregor). Unusually powerful in the Force, Anakin is also impatient, arrogant, and headstrong -- causing his mentor a great deal of concern. The pair are ordered to protect Padme Amidala (Natalie Portman), the former queen of the planet Naboo, now representing her world in the Galactic Senate. Someone is trying to assassinate her on the eve of a vote enabling Supreme Chancellor Palpatine (Ian McDiarmid) to build a military force that will safeguard against a growing separatist movement led by mysterious former Jedi Count Dooku (Christopher Lee). After another attempt on Padme's life, Obi-Wan and Anakin separate. The young Jedi and Padme fall in love as he escorts her first to the security of Naboo and then to his home world of Tatooine, where the fate of his mother leads him to commit an ominous atrocity. Meanwhile, Obi-Wan travels to the secretive planet Kamino and the asteroid-ringed world of Geonosis, following bounty hunter Jango Fett (Temuera Morrison) and his son, Boba (Daniel Logan), who are involved in an operation to create a massive army of clones. A vicious battle ensues between the clones and Jedi on one side and Dooku's droids on the other, but who is really pulling the strings in this galactic conflict? In late 2002, the movie was released in IMAX theaters as Star Wars: Episode II -- Attack of the Clones: The IMAX Experience, with a pared-down running time of 120 minutes in order to meet the technical requirements of the large-screen format. ~ Karl Williams, Rovi
News & Interviews for Star Wars: Episode II - Attack of the Clones
Critic Reviews for Star Wars: Episode II - Attack of the Clones
Audience Reviews for Star Wars: Episode II - Attack of the Clones
½
Somehow slightly going backwards on things that the first prequel completely failed on, "Star Wars Episode II: Attack of the Clones" is not is any way a good film. We follow a grown up Anikin Skywalker as he becomes stronger and understands the ways of the force. This is the middle chunk of this story, where we begin to see the dark side of Anikin, and a foreshadow of his soon-to-be future. Again, poorly scripted, sloppy camerawork, and a dumb plot, with great visuals and very entertaining battles sequences. This film still fails in ways that I wish were different, but at least it's fun to laugh at this instalment. In the end, It's nothing special at all and quite frankly, this is arguably the worst in the entire franchise. Just an awful addition to the franchise, even by the prequel standards.
Attack of the Clones, like Phantom, suffers from bad writing and awkward acting. The film improves in its final 15 minutes, however, with engaging action sequences.
Matthew Samuel Mirliani
Super Reviewer
½
The Phantom Menace was a film that proved that Star Wars could flub. Big time. As three years clicked by we thought that the next one will be better. The nest one has to be better. Production stills and trailers and merchandise teased us with a film that could capture the feeling of the original saga. It didn't happen. Attack of the Clones is set 10 years after the events of The Phantom Menace. Obi-Wan (Ewan MacGregor) and Anakin (Hayden Christensen) are master and apprentice in the Jedi Order. They've been given the assignment of finding the assassin of Queen Amidala (Natalie Portman). Anakin and Padme fall for each other and there's a battle with these mysterious clones from the title ordered years ago by a thought to be dead Jedi. Just trying to describe the plot is exhausting. There is so much thrown at you that it's like throwing bricks at a ladybug in the front yard. There isn't as much political intrigue as in the last film, but it's been replaced by an enormous collection of CGI collections and over the top situations. By over the top I mean that the odds of all of these events falling into place in one film are a number so large I just don't want to deal with it. Kind of like thinking about the plot. The problem with actually reviewing Attack of the Clones is that I don't know who to blame for the acting. Do I go after the actors themselves or do I attack George Lucas and his feeble attempts at writing dialogue. It is horrendous. It's as course and harsh as the sand Anakin can't shut up about. The scenes where the pair are falling in love are such drivel it hits the brakes on a film where even most of the action sequences can'r save it, as opposed to The Phantom Menace that could pull you back in a little bit. At least Christopher Lee is in it as the antagonist Count Dooku, the only performance worth noting. And maybe Ian McDiarmid. I guess those guys can work thru terrible writing. Attack of the Clones is a bloated film with no real soul to it. It feels like a mass produced item (which it is at this point) playing fan service with a couple of cool scenes and appearances (Jango Fett and Yoda). Otherwise the film is a disappointment. It isn't worse than The Phantom Menace, but it's not better. It's even. The tone has shifted, nut there isn't anything there to hold on to. This film leaves a "meh" feeling because you know that the real payoff is in the next film. Where Empire succeeds as the middle chapter, this film fails at miserably. This film is yet another disappointment and further discredits the franchise it's a part of.
Chris Garman
Super Reviewer
Star Wars: Episode II - Attack of the Clones Quotes
| | |
| --- | --- |
| Anakin Skywalker: | Don't be afraid. |
| Padmé Amidala: | I'm not afraid to die. I've been dying a little bit each day since you came back into my life. |
| Anakin Skywalker: | What are you talking about? |
| Padmé Amidala: | I love you. |
| Anakin Skywalker: | You love me? I thought that had decided not to fall in love--that we would be forced to live a lie and that it would destroy our lives. |
| Padmé Amidala: | I think our lives are about to be destroyed anyway. I love truly, deeply love you, and before we die I want you to know. |
| | |
| --- | --- |
| Obi-Wan Kenobi: | Blast! This is why I hate flying! |
| | |
| --- | --- |
| Yoda: | Victory? Victory you say? Master Obi-Wan, not victory. The shroud of the dark side has fallen. Begun, the Clone War has. |
| | |
| --- | --- |
| Anakin Skywalker: | I don't like sand. It's coarse, and rough, and irritating, and it gets everywhere. |
Discussion Forum
Discuss Star Wars: Episode II - Attack of the Clones on our Movie forum!