Suddenly, Last Summer
(1959)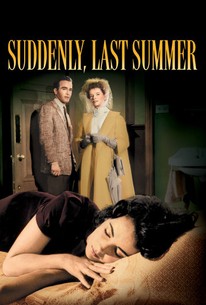 Suddenly, Last Summer Photos
Movie Info
Tennessee Williams' Suddenly, Last Summer is a domestic drama concerning homosexuality, insanity and cannibalism. Brain surgeon Montgomery Clift is summoned to the home of fabulously wealthy Katharine Hepburn, who wants to have her daughter-in-law Elizabeth Taylor lobotomized. Recently released from an asylum to Hepburn's care, Taylor suffers from horrific nightmares and unpredictable bursts of violent behavior. As it turns out, Taylor is harboring an awful secret concerning Hepburn's late, beloved son--a secret that Hepburn intends to keep from the world, even at the expense of Taylor's life. The explanatory flashback is as lurid a piece of filmmaking as ever emerged from the supposedly white-bread 1950s. Reportedly, Hepburn so despised Mankiewicz that she spit in the director's eye on the last day of filming.
Critic Reviews for Suddenly, Last Summer
Audience Reviews for Suddenly, Last Summer
½
A psychologist investigates the emotional problems of a woman who returned from a deadly vacation. Tennessee Williams's odd parable comes to life in Joseph L. Mankiewicz's adaptation. Featuring very strong performances by two legendary actresses (Elizabeth Taylor and Katharine Hepburn), the film delights in its stage play source material. However, what's weird about the play is the same problem with the film. We all know what happened during the summer, but Williams's time prevents him from really telling us, and Mankiewicz's time prevents him from showing us. All this obfuscating makes the film a challenge (sometimes challenges are good), but even so, Mankiewicz's flashbacks must walk the perfect line between showing us too much and showing us too little; sadly, at separate times, it's both. Overall, this is a very strong adaptation of a difficult play.
Jim Hunter
Super Reviewer
While its premise is surely strange, with Taylor's seclusion and her cousin Sebastian's fate up in the air, this film is still wildly entertaining. Hepburn, a seasoned veteran of the screen, takes on the persona of an unfeeling woman cooped up with a misanthrope, different than any other role she has ever undertaken. Clift is personal, but not dodgy, and the chemistry between him and Taylor is palpable.
Spencer S.
Super Reviewer
This movie is based on a Tennessee Williams play, and is full of drama, intensity, tension, suspense, and sometimes a bit of confusion, but I think it's really a great movie. The cast has big stars, and a great director too. If you like Williams' plays, you should see this movie.
Suddenly, Last Summer Quotes
There are no approved quotes yet for this movie.