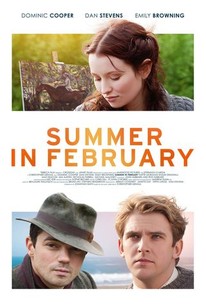 Summer in February
2013, Romance/History, 1h 41m
43 Reviews
1,000+ Ratings
What to know
Critics Consensus
It boasts beautiful scenery, but in every other respect, Summer in February is a painfully bland period drama. Read critic reviews
Where to watch
Rent/buy
Free
Rent/buy
Rent/buy
Rate And Review
Summer in February Photos
Movie Info
Two friends (Dominic Cooper, Dan Stevens) at a 1913 British artists colony compete for the affections of a comely debutante, but the object of their pursuit soon learns to regret her choice.
News & Interviews for Summer in February
Audience Reviews for Summer in February
In 1913, young society girl, Florence (Browning), arrives at an artists' colony in Cornwall, hoping to develop her painting skills. There she falls for the abrasive and arrogant painter, AJ Munnings, who is tolerated by his friends purely because they consider him a genius (he's subsequently become known as history's best painter of horses). Munnings' friend, Gilbert Evans, is cut from an entirely different cloth, a shy, reserved former soldier. Evans falls for Florence but keeps his feelings to himself and, when Munnings proposes to the girl, she accepts. Once wed, however, Florence begins to realize she may have made a bad choice. In Woody Allen's 'Sweet & Lowdown', Sean Penn portrays the world's second best guitar player ("there's this gypsy in France"). Like the painter, Munnings, he's gruff and conceited, his sociopathic attitude only rendered permissible by his talent. The only girl who can truly fall for him is a deaf mute, played by Samantha Morton. Oblivious to both the beauty of his chords and the horror of his tongue, only Morton's character can accept him without prejudice. Florence has no such disability, and therefore no such excuse, for accepting Munning's belligerence. Even her Father disapproves of the marriage, which makes her putting up with Munning frustrating to watch. The writer, Jonathan Smith, (adapting his novel), tries to paint (pardon the pun) Florence as a tragic figure, but she instead comes off as a victim of her own making. The movie's first half takes great pains to build up the idea of Munnings as some kind of monster but, in the post-wedding second half, Florence's paranoia and possessiveness garner audience sympathy towards the pugnacious painter. She accuses him of acts we never actually see him commit, which makes her come across as little more than an unreasonable harpy. With copious full-frontal nudity from its young female stars in the opening half hour, 'Summer in February' begins like a homage to the sort of soft-core porn continental Europe churned out during the seventies. Those movies always seemed to feature an innocent young girl seduced by an older, worldlier artist, usually a painter or photographer who she would conveniently pose nude for. Even the outdoor scenes are photographed with a similar "Vaseline on the lens" aesthetic. These alfresco moments are handsomely mounted but, when indoors, the movie resembles those production line period dramas British TV networks are so fond of. If you're a fan of the likes of 'Downton Abbey', this will probably satisfy your tastes. For the rest of us, watching 'Summer in February' is a bit like posing for an artist for two hours only to be shown a picture of a turnip when the canvas is revealed. The artist is probably satisfied with himself, but it's not exactly what we paid for.
See Details