Syndromes and a Century
(2007)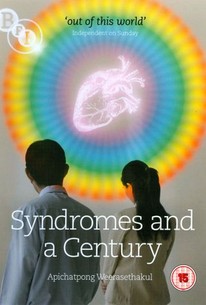 TOMATOMETER
AUDIENCE SCORE
Critic Consensus: Despite having little in the way of narrative, Apichatpong Weerasethakul's Syndromes is a poignant and mesmerizing memoir.
Movie Info
Set 40 years ago in a small town's hospital, juxtaposed with a similar hospital in the present day. It is a fictional recollection of the love and work of the filmmaker's parents before they finally became lovers, exploring both memories and everyday lives in two eras where a painfully shy young man is courting Dr. Aroon (who is drawn instead to an orchid expert), and a young monk has an unexplained attraction to a dentist.
News & Interviews for Syndromes and a Century
Critic Reviews for Syndromes and a Century
Audience Reviews for Syndromes and a Century
½
The emperor has no clothes, and I can't see any point in trying to look for a purpose in this infuriating and self-indulgent experiment that finds itself much more original and inventive than it is but has the same effect of random images of just about anything on a blank screen.
Carlos Magalhães
Super Reviewer
[size=3]If you pine for the halcyon days of Jean-Luc Godard and Federico Fellini, or if you love contemporary filmmakers such as Terrence Malick and David Cronenberg, then you're ready for the filmmaker with the un-pronounceable name: [b]Apichatpong Weerasethakul[/b] (pictured here). (I've read that he's known to friends as Joe. I'll call him AW.)[/size] [size=3][img]http://www.curtasmetragens.pt/festival/files/imagens_artigos_imagem_456_6162.gif[/img][/size] [size=3]I've been hearing about AW for several years and finally got to see one of his films: the brand-new Syndromes and a Century, which is playing in one theater in NYC and showing only once a day. But I count my blessings. At least it's being shown here.[/size] [size=3]One could interpret the film in a million different ways, but I read it primarily as a rumination on the fledgling new century that our generation is bringing to life, with the focus being on some of its dominant tendencies, or syndromes. [/size][size=3]Two dominant themes are health and bisexuality.[/size] [size=3]The film takes place in a hospital. We meet some of the doctors and patients (one doctor is shown below), but we don't get to know anyone very well. The film most definitely is not a character study. These people are not meant to seem like real people. They walk around more slowly than real people would and they talk in unusual ways. For example, they'll be talking pretty normally and then something very unusual will happen. They'll pause and then go back to talking as if nothing happened.[/size] [img]http://www.chicagoreader.com/features/stories/ciff/syndromes.jpg[/img] [size=3]Yet to my surprise, it works. The kind of pauses and breaks with reality that AW uses serve to make a certain issue or feeling shine brighter. There's one scene where a young Buddhist monk is on a dentist's chair being examined. The doctor and patient chat briefly and softly and seem to grow very fond of each other. The dentist pauses and then starts singing a little song to the patient. And the song goes on for pretty long. We just sit back and watch this man sing to this boy (he seems to be about 19) softly and tenderly for about two minutes. It's one of sweetest, most tender sequences I've ever seen in the movies. Obviously this wouldn't happen in real life.[/size] [size=3]The interlude didn't further the plot, what there is of one. Nor did it reveal anything specific about the characters. It seemed to me that it was intended to radiate feeling more than anything else. AW wanted us to see humans being tender with one another, especially ones who are complete strangers, and just bask in the feeling of that.[/size] [size=3]I don't think it was a coincidence that the two characters were male, however. This is just one of several instances where the idea of male-to-male kindness and love is either mentioned or shown. And I don't think it was coincidental that the younger man was handsome, or that the actor was barefoot in the scene. I suspect that AW wanted to give the scene a hint of eroticism to convey the bisexual feeling that I felt permeating the film.[/size] [size=3]Syndromes and a Century, happily, doesn't go in a wildly abstract direction. While the people do things that are unusual, they stay within the bounds of normality, so everyone remains recognizably human. There are only a couple breaks with time and space, where characters seem to change places. [/size] [size=3]I sense that AW wanted to highlight philosophical themes, but that he finds those ideas meaningful only insofar as they are connected to real people and the kinds of things they go through. AW doesn't strike me as a highly abstract thinker. He seems like he keeps his eyes open to the people around him, meditating on the kinds of things he sees them struggling with and enjoying. In that way, this film is deeply human and it radiates a feeling of caring about people, not caring about ideas for ideas' sake or for the sake of looking smart and well-read.[/size] [size=3]At the end of the film, there's an outro that one more time reflects on the theme of health. We see a large group of people all doing aerobics in a park on a beautiful, sunny day. People of all ages are doing it together to the beat of infectious pop music. It is an adorable celebration of life and an image that is so emblematic of our age. And then the film quietly fades.[/size] [size=3]The only weakness I felt in the film is that it's a bit slight. I liked seeing AW eliciting themes obliquely, and his cinematography and overall mise-en-scene is absolutely exquisite. But I didn't see him saying truly penetrating things about our time or about life. I suspect that this is one of his more delightful, but more minor films. I'll be eager to see more of his films to compare them.[/size]
William Dunmyer
Super Reviewer
Syndromes and a Century Quotes
There are no approved quotes yet for this movie.