Tamara
(2006)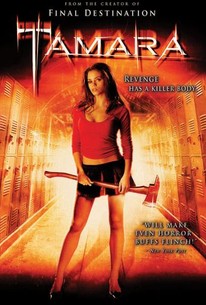 Movie Info
An unpopular high-school girl dies at the hands of her classmates when a cruel prank spins out of control, only to return from the land of the dead to seek revenge as a sexy seductress in this frightful feature from Final Destination screenwriter Jeffrey Reddick. Tamara was a quiet girl, and the cruelty of her classmates was relentless. As their disdain for their mousy classmate reaches a fever pitch, Tamara's sadistic classmates carry out a vicious practical joke that inadvertently results in the young outcast meeting her doom. Tamara isn't the kind to stay down forever though, and when the once-homely girl returns from beyond the grave with a killer new look and a body to die for, that's exactly what her tormentors are about to do.
People Who Like this movie also like
News & Interviews for Tamara
Critic Reviews for Tamara
Audience Reviews for Tamara
½
Nowhere near as b grade as I expected, actually pretty good. Tamara is a sweet but geeky high school student who is secretly in love with her teacher. A few of the popular kids find out and set out to publicly humiliate her by pretending to be the teacher and luring her to a hotel room. Maybe not wise considering she is studying witchcraft in her spare time. Things go bad and Tamara is accidentally killed. The kids decide to bury her for fear of what will happen to them if Tamara's death is discovered. Before too long, Tamara rises again due to a spell she cast previously, and though she's now beautiful and seductive, she's also risen evil, and she's got an axe to grind with all involved, whether they intended to hurt her or not...
Nicki Marie
Super Reviewer
Hubble, Bubble throw a mix of Carrie, Craft, I know what you did last summer into a cauldron and you get this low budget slasher. Borrows ideas from several films and then does it in a similar way on a lower budget. Very predictable, but if you're a fan of slasher films it might just have enough going for it to make it worth a watch once.
Highly flawed and yet somehow it manages to entertain. It's pretty much Carrie all over again, with a few tweaks here and there. Best of all is Jenna Dewan who does look incredible. I don't think she needed witchcraft to make people do what she wanted. There's also some scenes which aren't present in every slasher/horror. Most notably a rather gruesome self-mutilation. There are members of the cast you expect were cast for something other than their acting ability, but you'll also get some cheap thrills.
Luke Baldock
Super Reviewer
Tamara Quotes
There are no approved quotes yet for this movie.