The American Scream
(2012)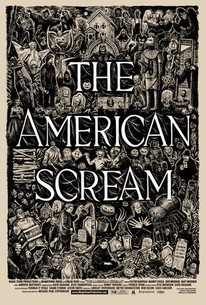 The American Scream Photos
Movie Info
Every Halloween, sleepy Fairhaven, Massachusetts erupts with the most ambitiously creative spookery in the world. Endless styrofoam tombstones and backyard beasts come courtesy of a few supremely dedicated local "home haunters" who've devoted their lives to the art of handmade monster-making. The American Scream follows three of these horrific households to uncover the triumphs and tragedies that come with carrying the blackened banner of true Halloween spirit. -- (C) Official Site
Critic Reviews for The American Scream
Audience Reviews for The American Scream
"American Scream" is documentary that has a very unique subject matter, "haunters". Haunters are people who turn their home in a haunted house on Halloween for people to go through as they go around trick or treating. It follows three different households that do this, and it's amazing the passion these people have for Halloween. Their stories are touching, funny, sad, and overall just fun. Really makes me wish I lived near one of them, or was able to do this myself. They aren't rich people(far from it), they are just people that love the holiday, and this allows them to have a name for themselves, and be remembered. Every year on the holidays I see some houses that are just decorated so amazingly, and I always remember them. After watching this, I see why they go through all the trouble, and I can honestly say I've got a new appreciation for it. Each household has trials and tribulations in their lives, but it all comes together on Halloween, and makes everything worth it. If you love Halloween, then you should definitely check this out. Just shows how fun the holiday is. One of the guys said it best that "Christmas is a family holiday, but Halloween is a community holiday when strangers can come together and be friends for one night." Fascinating documentary that should have gotten more recognition this year.
Everett Johnson
Super Reviewer
½
Enjoyable homage to America's obsession with Halloween.
Randy Tippy
Super Reviewer
½
A relatively interesting documentary from Best Worst Movie director and Troll 2 star Michael Stephenson, American Scream shows three families that go all out in building haunted houses every Halloween. The first family shown is by far the most interesting and relatable, as the other two families lack relatability and pathos because they are primarily middle-aged men with unusual backgrounds. The documentary itself is well-made, the only problem is the latter two less interesting families.
Joey Shapiro
Super Reviewer
The American Scream Quotes
There are no approved quotes yet for this movie.