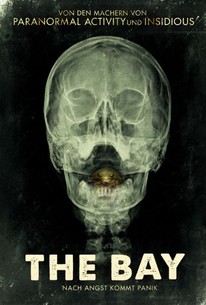 The Bay
2012, Horror/Sci-fi, 1h 24m
86 Reviews
10,000+ Ratings
What to know
critics consensus
Barry Levinson's eco-horror flick cleverly utilizes familiar found-footage methods in service of a gruesome yet atmospheric chiller. Read critic reviews
Where to watch
Rent/buy
Rent/buy
Rent/buy
Rate And Review
Movie Info
The residents of a seaside Maryland community become the unfortunate hosts of mutant, waterborne parasites that take control of their minds and bodies.
News & Interviews for The Bay
Audience Reviews for The Bay
The Bay; a clever crafting of a horror film and a genre-bending example of "eco-horror", found footage and body horror. What starts as a simple yet extravagant fourth of July celebration in a small fishing community spirals shockingly fast into a series of recorded events that is hard to look away from once they begin to unfold on screen. In a word, The Bay is terrifying. I find the idea of biological panic and these kinds of "our government has abandoned us" content really unsettling anyway - to me it is the worst idea of an apocalypse - and the film manages to involve us so deeply and addresses its audience as individuals from start to finish. It's a collection of different accounts told through video diary, Skype, news reporting and video conference and each story is different and more disturbing than the last. It's alot more clever than it realises itself to be really, as it includes so many different styles of horror that the film is almost like an anthology of different short films, similar to that of 2012's V/H/S. Definitely recommend this film. Clever, disturbing and stays under the skin for days.

Pretty cool. I like outbreak movies, so this was right up my alley. Part horror, part documentary, this movie is not for the faint of heart. But if you're even remotely interested, check it out.

Great idea for a horror film, but it lacks originality and real scares. The Bay is yet another documentary style horror film that we've seen many times before. The film is mediocre and lacks anything really engaging. The problem with this genre is that it's over done. Filmmakers tend to recycle the same formula and in turn the material on-screen suffers significantly in terms of telling something that is supposed to be truly suspenseful and terrifying. The found footage genre is overdone and pointless. The last good film in this horror genre was V/H/S, and in my opinion, they should have ended that genre with that film. The problem with The Bay is that it is a predictable film and you know how it will turn out. There simply isn't anything worthwhile here to make it a truly good horror yarn. I really wanted to enjoy, unfortunately, this was yet another unsatisfying found footage film that is clichéd and scare free. This film was produced by the same guys who created the Paranormal Activity films, and though the first three films in that series were genuinely scary, the formula that the filmmakers keep using becomes tiresome and all too predictable. There's only so much you can do with this formula before it becomes boring. The formula worked well with Paranormal Activity and other films. However with The Bay, it just doesn't deliver and it is a bland affair with no genuine scares and in turn it becomes a tiresome, dull horror film that just doesn't terrify. I really expected a great film with this one; unfortunately it is a mediocre horror film that will disappoint you if you're looking for something fresh to watch. The Bay contains scenes that we've seen many times before and it ventures into old territory that simply isn't interesting due to a lacking script that relies on a clichéd idea that cheats the audience. Stick with the older found footage film as they're far better than this.

Found footage type horror that attempts to explain the random hordes of dead fishes and wildlife that have been turning up over the past few years. As this is something that has been actually happening it immediately grabs your attention and does a pretty good attempt at keeping it as the inhabitants of a small seaside town start getting infected around July 4th which makes any forthcoming celebrations pretty unlikely. The majority of the footage relies on that of an inexperienced reporter who initially thinks shes at the scene of a murder due to people turning up all bloody and stuff. Again, this adds a bit of realism. But while watching The Bay you can't help shake off the "not another fucking found footage movie" feeling plus theres the odd burst of incident music which clearly takes away any realism and moves the film into normal film territory. The Bay definitely has its moments and is worth a look but ultimately is a bit of a mixed bag.
See Details