The Canal
(2014)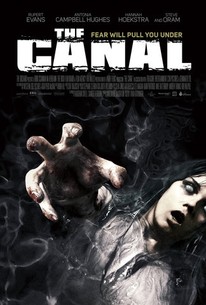 Movie Info
Sitting in an empty theater, a film archivist watches the grainy footage that will be his undoing. David and his wife are perfectly happy-or so he believes. When he finds out the home he shares with his wife and son was the scene of a ghastly turn-of-the-century murder, David dismisses it as ancient history. That is, until the sinister history ripples into the present and casts a shadow over life as he knows it. And when a looming secret shatters his marriage, David can't help but suspect the dark spirits of the house are somehow involved. In his drive to unveil the shadows hidden in the walls, David begins to descend into insanity, threatening the lives of everyone around him. Through ghastly imagery and a chilling score, Ivan Kavanagh's The Canal is an Irish ghost story that will leave you with a fear of the dark and a dripping chill down your spine long after the film's conclusion. (C) The Orchard
News & Interviews for The Canal
Critic Reviews for The Canal
Audience Reviews for The Canal
½
Kavanagh is an excellent director who cares about building a disturbing, eerie atmosphere with a superb cinematography and sound design, and the result is a terrifying movie that could have really become a classic if it weren't for its last ten minutes with such a silly, clichéd twist.
Carlos Magalhães
Super Reviewer
This quite a good horror film with an effectively moody and, somewhat, creepy story and a pretty damn excellent ending that will surprise some people. I don't mean surprising in the sense that it gives us a great twist that completely changes the story but I do mean in the sense that you're really not expecting that to happen. I thought the film was good from the start but I think the ending does make the movie better because it gives it a much more disturbing touch, particularly the end result of the manipulation by these "demons". The movie combines ghost story with flashes of fairly violent imagery of what happened in David's house back in 1902. It's also well-written, solidly acted and well-shot. I honestly thought that the usage of the old camera did actually make for a creepier element to some of the scenes where David uses the camera to reveal the 'man' who committed these murders in his house. I do think the movie becomes a little muddled, in a sense, by combining two different ghost stories into one. What does Alice's ghost, David's wife, whom he believes was murdered by the same man who committed the atrocities in his house, have anything to do with the spirit/demon/ghost plaguing David's house. If they did explain what one had to do with the other then I seriously missed it because I cannot comprehend what one has to the with the other. That is, perhaps, the film's only weakness really. I don't wanna say it's a movie that's a scare-a-minute. And it's not even as good as The Babadook was, from an overall perspective, since parts of this reminded me of the aforementioned film. But if you're looking for a more straightforward horror film as compared to The Babadook then this would be the safe bet. Still, in spite of its flaws, I think this is a movie that will surprise a lot of people since there are, generally, lower expectations with horror films than with almost any other genre in existence. This is quite the good movie with a good and creepy ghost story. Perhaps the dialogue could've used some work, but this is a good movie to watch on Netflix.
Jesse Ortega
Super Reviewer
½
Director Ivan Kavangh somehow proves once again that he is capable of taking a tired premise, handling it poorly, and yet still somehow manage to churn out quite a good film.
The Canal Quotes
There are no approved quotes yet for this movie.