The Easy Life (Il sorpasso)
(1962)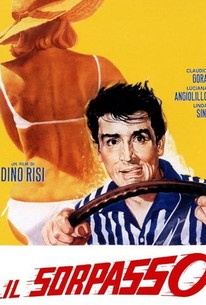 The Easy Life (Il sorpasso) Photos
Movie Info
Regarded by many as Dino Risi's finest film, The Easy Life (Il Sorpasso) casts Vittorio Gassman as Bruno, a jaded, aging roue, who introduces young Roberto Mariani Jean-Louis Trintignant to his hedonistic lifestyle.. Previously a man with a purpose in life, Roberto soon becomes as wanton and wastrelly as Bruno. The older man is proud of his handiwork--until tragedy strikes. Risi sagaciously sets his moral fable against the beauties of the Riviera; we may not approve of Bruno's lifestyle, but we certainly understand why it appeals to him. Among the screenwriters of The Easy Life was Ettora Scola, a frequent Dino Risi and Vittorio de Sica collaborator and an excellent director in his own right.
News & Interviews for The Easy Life (Il sorpasso)
Critic Reviews for The Easy Life (Il sorpasso)
Audience Reviews for The Easy Life (Il sorpasso)
"Il Sorpasso" is a classic road film, accessible and easy to like even for English-speaking audiences. Vittorio Gassman is Bruno, a tall, handsome, charismatic wag who's the life of the party wherever he goes. He's immediately likable, yet too wrapped up in his dazzling persona to ever connect with someone on a deeper level. Bruno happens to encounter a shy law student (Jean-Louis Trintignant, near the beginning of his remarkable career) and spontaneously takes him on a wild two-day ride through the Italian countryside. The title comes from Bruno's penchant for playing reckless driving games with his beloved convertible (and its obnoxious horn, which is steadily pumped throughout the film). There is no real plot -- the action is entirely episodic as the pair stop here and there to flirt with a girl, bum a cigarette, join a dance or enjoy a café. The weather is beautifully sunny, and the landscapes are always pleasing. But Bruno is devil-may-care to a fault, and as Trintignant's character lets his guard down, he loses awareness that he is being used. Note: There's an interesting moment where Bruno flashes the "devil horns" hand sign, years before heavy metal (and, in particular, Italian singer Ronnie James Dio) changed its meaning forever.
Eric Broome
Super Reviewer
½
"Il Sorpasso" starts with Bruno(Vittorio Gassman) driving into a nearly deserted Rome from Amalfi. While there, he asks to use the phone of Roberto(Jean-Louis Trintignant), a law student, who hesitatingly agrees. It is then that Bruno remembers that he is already an hour late for a date. So, he takes his new friend away from his studies to find lunch somewhere which is a tricky business, considering this is the August holiday. So, they head to to the city outskirts where instead of food, they discover a couple of cute German women heading in the same direction and accidentally follow them into a graveyard... I had always suspected the buddy road comedy had been around a good long time, considering how stale it has grown. Well, in 1962, the idea was still fresh and "Il Sorpasso" is definitely an entertaining take on that idea.(And, oh my, that ending!) Or maybe it's not quite the plot that really matters, as decently executed as it is, with its share of unpredictability especially concerning Bruno's back story, but rather what it has to say about postwar Italy and not only in the obvious comments about Italian drivers.(A record player as an optional extra?) What we have here is a country torn in two different directions, going forwards so quickly that it forgets what happens two seconds in the past. And it's funny to see how wrong Bruno is about the future. Plus, contrary to him and "Back to the Future 2," we are always going to need lawyers and people like Roberto to do the thinking.
½
Hysterical satire with wonderful dialogue and two excellent performances, Trintignant is a quiet and absent minded youngster, and Gassman is his mischievous, older but less mature counterpart, they meet one morning, take a country ride and enjoy the best weekend of their lives. Dino Risi's masterpiece.
Pierluigi Puccini
Super Reviewer
The Easy Life (Il sorpasso) Quotes
There are no approved quotes yet for this movie.