The History Of Future Folk
(2013)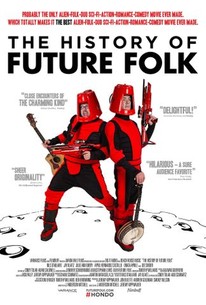 TOMATOMETER
AUDIENCE SCORE
Critic Consensus: High on quirky smarts and low on splashy special effects, The History of Future Folk is an unusual -- and unusually fun -- slice of sci-fi.
The History Of Future Folk Videos
The History Of Future Folk Photos
Movie Info
THE HISTORY OF FUTURE FOLK tells the hilarious (and possibly exaggerated) origin story of the real life alien bluegrass band, Future Folk, that has been charming NYC audiences with their live act for the better part of a decade. When a comet threatens to destroy their planet, the citizens of Hondo enlist their most decorated soldier, General Trius (Nils d'Aulaire), to search for a new home planet- and wipe out the current inhabitants with a flesh-eating virus. After landing somewhere near Brooklyn, General Trius wanders into a megastore to unleash the terror... when he's suddenly enchanted by a strange and mystical human invention known as "music." They don't have music on Hondo, and since it's the best thing he's ever heard, General Trius immediately abandons his mission to eradicate the human race, assumes the name Bill, starts a family, and launches a one-alien bluegrass act in a tiny bar owned by Larry (Dee Snider). Years later, his peaceful life is disrupted when the Hondonians send a bumbling assassin named Kevin (Jay Klaitz) to get the mission back on track. Although subduing Kevin is no challenge for the great General Trius, the Hondonians have no intention of calling off their plan to eliminate mankind, so Bill and Kevin must join forces to save Hondo, prevent an intergalactic takeover of Earth, and hopefully get some bigger gigs for the universe's first Hondonian bluegrass duo: Future Folk! (c) Variance
Rating:
NR
Genre:
Directed By:
Written By:
In Theaters:
Box Office:
$15,943.00
Runtime:
Studio:
News & Interviews for The History Of Future Folk
Critic Reviews for The History Of Future Folk
Audience Reviews for The History Of Future Folk
½
A quintessential "Netflix Movie". History of Future Folk is a quirky low budget absurdity of a film. It's one of those films that no Hollywood studio would ever pay money to create but that some Indy studio has would pour it's life and soul into. Sadly History of Future leaves the viewer unsatisfied. At least the film isn't quite as bad as the songs it revolves around!
Samuel Hunter
½
It's really difficult to say the plot of this movie without also wincing and making excuses. A general from another planet, sent here to kill the inhabitants of Earth in order to make room for his fellow facing-imminent-peril Hondonians, discovers music and changes his mind. Excuses would be superfluous, though, because this movie is wonderful. There are next to no special effects. Aside from the occasional laser beam or rocketship, the main visual that alien's are even involved is the jumpsuits they wear, complete with a bucket-esque helmet. The action sequences, too, are distilled, all the way down to a single karate chop that apparently has the power to knock someone out. The minimalism shown is what really makes this film. The focus lies not on the fantastical story but on the complex feelings that arise when being forced to choose between your old home and new. D'Aulaire gives the movie gravity while Klaitz helps it soar. They clearly feel comfortable with each other the way that bandmates after a decade should. All in all, it's just plain fun. Definitely a movie to watch.
Emiy Kay
Can you imagine a film that incorporates elements of drama, romance, comedy, sci-fi plus lots of catchy songs... and that at the end almost everyone likes it!? It is hard to imagine, but this movie is one of the kind, and it manages to be adorable with all of the above in it! Director John Mitchell's debut has it all - aliens bent on world destruction, boy-meets girl/boy-gets-girl, action adventure, and a soundtrack which will follow you for days even if you are not a fan of that kind of music. Unique and charming, this piece of real film art will have you humming and repeating the word "Hondo" long after you've finish watching it. This film is actually setting the background story of the futuristic folk duo Future Folk, who have been performing to packed crowds in and around New York and Brooklyn for several years. Using their alien personas and building a thrilling backstory around them, the film manages to please the crowd and bewitch us all at the same time while we together follow the hilarious adventure that lives up to its tag-line: Probably the only alien-folk-duo sci-fi-action-romance-comedy ever made! I have to say that Jeremy Kipp Walker is the real star of this project together with the main protagonists. His recent producing credits include "It's Kind of a Funny Story" starring Zach Galifianakis; "Half Nelson", for which Ryan Gosling received a 2007 Best Actor Academy Award nomination; "Cold Souls" starring Paul Giamatti; baseball odyssey "Sugar"; Moroccan-based thriller "The Passage" and the deep space thriller "Europa Report". Impressive, but none of them reached the smoothness and satisfaction like his directing debut - this one The History of Future Folk. He previously co-directed the award winning short films "Super Powers" (Best Narrative Short Film Award - 2007 Tribeca Film Festival) and "Goodnight Bill" (Jury Award for Best Short Film - 2005 Austin Film Festival; Audience Award for Best Live Action Film - 2005 Palm Springs International Short Film Festival; Jury Award for Best Short Film - 2005 New Orleans Film Festival and a Best of Fest Screenplay Award - 2005 Rhode Island Film Festival). I am looking forward for the next film! If you are in a mood for a gentle and infectiously joyful family-friendly comedy about aliens who call off an invasion of Earth because they're charmed by earthlings' music, chose this one. You should be feeling invigorated after watching it. In fact, if that does not happen, please watch it again. You definitely did something wrong the first time.
The History Of Future Folk Quotes