The Hollars
(2016)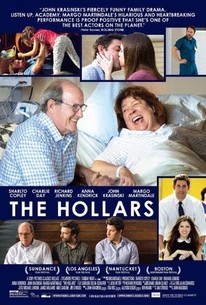 TOMATOMETER
AUDIENCE SCORE
Critic Consensus: The Hollars gathers an impressive assortment of talented stars; unfortunately, it's all in service of a story that's been played out more effectively in countless other indie dramedies.
Movie Info
John Hollar, a struggling NYC artist is forced to navigate the small middle-American town he left behind when news of his mother's illness brings him home. Back in the house he grew up in, John is immediately swept up in the problems of his dysfunctional family, high school rival, and an over-eager ex-girlfriend as he faces impending fatherhood with his girlfriend in New York. From a script by Jim Strouse that is at turns hilarious and heartbreaking, John Krasinski's second feature is a poignant look at the bonds of family and friendship.
News & Interviews for The Hollars
Critic Reviews for The Hollars
Audience Reviews for The Hollars
½
Quirky and offbeat, The Hollars is a lighthearted and entertaining indie comedy about family. When his mother is hospitalized, John Hollar returns to his small hometown and reconnects with his estranged family. Starring John Krasinski, Anna Kendrick, Charlie Day, Richard Jenkins, and Margo Martindale, the film has a pretty good cast. And, the comedy is well-written and has a clever wit to it. Yet the pacing is kind of slow and the plot meanders at times. Also, there's really not a lot of character development. But despite its problems, The Hollars is an enjoyable film with a strong message about the bonds of family.
Dann Michalski
Super Reviewer
I found this both funny, bittersweet, moving and utterly relatable. Beautifully acted with a great soundtrack too.
Ian Walker
Super Reviewer
John is Jim and Jim is John and in his new movie, The Hollars, John is simply John. We're talking about John Krasinksi of course who parlayed his likable everyman gig on The Office for nine seasons into a brand all its own with which with he will now try to both break (13 Hours) and embrace-see The Hollars. In Krasinski's second directorial effort what we have is your standard tale of a white man who's been given little if nothing to overcome in this society other than his own emotions and how he deals with such emotional conflicts when his mother falls ill in the small town he ran away from long ago. It is in returning to this not only small town, but the man's hometown that we know our protagonist will learn lessons that might help him deal with his mental constipation. Naturally, there is a cast of quirky family members who are designed to be specific in certain ways, but just broad enough in others so that we may all find someone to relate them to in our own families. In venturing back to his homestead John with the titular last name rather than Krasinski comes to learn things about his parents and his other family members that he'd never been privy to before; intimate and mostly ugly details he doesn't necessarily want to know or see, but as something of the family savior he finds it his responsibility to try and put them back together. It is in this idea, this story arc that The Hollars attempts to differentiate itself from this genre of defeated middle aged men returning to their roots to remember who they really are by reminding themselves of where they came from. It is in this idea that the one who fled to search for more is the one who fled not wholly out of ambition, but also from the pressures imbued upon them by their clan. In The Hollars, John is the only character whose life is fairly average-he really has little to complain about aside from the fact he may not be where he imagined himself professionally at this point, but otherwise he lives in New York City and has a rich/hip girlfriend in Rebecca (Anna Kendrick) who is expecting their first child. The guy more or less has his stuff together sans a few emotional shortcomings, but it is in these emotional shortcomings that the crisis drives him to some interesting and introspective places that are hinted at through his re-connections with his hometown, but that Krasinski brushes over too broadly for them to really resonate instead resorting to genre cliché's to round out his movie. read the whole review at www.reviewsfromabed.com
Philip Price
Super Reviewer
The Hollars Quotes
There are no approved quotes yet for this movie.
Discussion Forum
Discuss The Hollars on our Movie forum!