The Little Hours
(2017)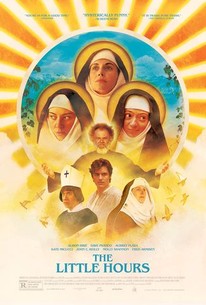 TOMATOMETER
AUDIENCE SCORE
Critic Consensus: The Little Hours gets plenty of goofy mileage out of its gifted ensemble, anchoring its ribald laughs in a period comedy with some surprisingly timely subtext.
Movie Info
Medieval nuns Alessandra (Alison Brie), Fernanda (Aubrey Plaza), and Ginevra (Kate Micucci) lead a simple life in their convent. Their days are spent chafing at monastic routine, spying on one another, and berating the estate's day laborer. After a particularly vicious insult session drives the peasant away, Father Tommasso (John C. Reilly) brings on new hired hand Massetto (Dave Franco), a virile young servant forced into hiding by his angry lord. Introduced to the sisters as a deaf-mute to discourage temptation, Massetto struggles to maintain his cover as the repressed nunnery erupts in a whirlwind of pansexual horniness, substance abuse, and wicked revelry.
News & Interviews for The Little Hours
Critic Reviews for The Little Hours
Audience Reviews for The Little Hours
½
Man was I ever ready to love The Little Hours. It actually pretty much hadn't even entered my mind that I might not. Unfortunately, that was the case. Don't get me wrong, I'm not saying that The Little Hours is terrible, far from it. It's better than a lot of the American comedies I've watched recently. But overall my experience with the movie would be described more as "interesting" or "different" or maybe even "okay" rather than a flat out "good". I'm always happy to see Aubrey Plaza and Alison Brie getting work (especially outside of things like Mike & Dave Need Wedding Dates or Get Hard respectively), but I was a little disappointed by The Little Hours.
Like a Catholic schoolboys fevered fantasy here is a Python-esque/National Enquirer look under-the-covers, as it were, of a secluded medieval convent. Expect some smiles as the ladies do their all to subvert expectations, brooking their natural inclinations inasmuch as it is possible, which is all that Catholic schoolboys among you dream of. Frequently. In secret. Not quite cult, but certainly in that vein.
Kevin M. Williams
Super Reviewer
½
What was Jeff Baena trying to do here? Was he going for rom-com or a period piece? Both suffer for each other's sins in that regard. An amazing comedic cast are wasted on poor dialogue and awkward scenes while the great cinematography and set design are wasted for the sake of a bad laugh. Baena's fun and poignant exploration of post-collegiate ennui, last year's Joshy, packed a solid amount of jokes into its drama, but it seems the director wanted to make a pretty film pretty dumb for a a follow up. The film is set in a fourteenth century convent, yet no attempt is made at making the dialogue period specific. Stylistically, the f-bombs would have been acceptable if not for the substitution of the word "sex" for "penis" or "vagina". Why even bother to be subtle in one instance if not in the other? That is a microcosm of the strange world The Little Hours inhabits, and, had they gone a more crude route, it would have been more effective. Diametrically opposed to the over-the-top comedy romp promised by the trailer, the humor straddles the line between "too subtle" and "completely non-existent". In fact, the only overtly funny parts of the movie are in the trailer. That is, unless you find an awful Mel Brooks attempt at Dark Habits a hilarious and forgivable premise. If you want a good Aubrey Plaza movie, watch Ingrid Goes West instead of this. If you want a good Jeff Baena movie, watch Joshy. If you want to not be disappointed in a comedy, don't watch The Little Hours.
K Nife Churchkey
Super Reviewer
The Little Hours Quotes
There are no approved quotes yet for this movie.
Discussion Forum
Discuss The Little Hours on our Movie forum!