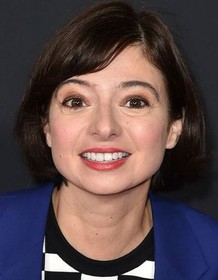 Kate Micucci
Highest Rated: 98% Don't Think Twice (2016)
Lowest Rated: 16% Show Dogs (2018)
Birthday: Mar 31, 1980
Birthplace: Jersey City, New Jersey, USA
Comedian and actress Kate Micucci became best known for her idiosyncratic characters on sitcoms such as "Scrubs" (NBC 2001-08, ABC 2009-10) and "Raising Hope" (Fox 2010-14), as well as her work with Riki Lindhome as musical comedy duo Garfunkel and Oates, but for the doe-eyed brunette, the quirk was honest and heartfelt. The ultimate art school overachiever, Micucci managed to weave music, art, stand-up comedy, and puppetry into her stage performances and television work. However, she did not start out as a wanna-be actress. Raised in the small town of Nazareth, PA, Kate Micucci grew up in an arts-centric home, learning to play classical piano from her mother. Following high school, she obtained two art degrees, from Pennsylvania's Keystone College and Loyola Marymount University in Los Angeles, where she concentrated on both painting and building puppets. Her acting career started with a small role on the family sitcom "Malcolm in the Middle" (Fox 2000-06), after which she was cast as the female lead, Toni, on the short-lived sitcom "Four Kings" (NBC 2006), opposite Seth Green. Micucci's film career began with a supporting role in the high school comedy "Bart Got A Room" (2008), but by that point, the pianist turned ukulele player had formed a musical comedy duo with fellow actress Riki Lindhome, whom she had first met when the pair kept being sent to the same auditions. Calling themselves Garfunkel and Oates in a nod to two of pop music's most famous second bananas, the duo began performing live at Los Angeles comedy clubs and recording YouTube videos of their original comic songs. Micucci's musical bent helped land her breakthrough TV role, as oddball ukulele player Stephanie Gooch, the girlfriend of hapless hospital lawyer Ted Buckland (Sam Lloyd) on the critically-acclaimed sitcom "Scrubs." After that series left the air, Micucci achieved a unique television footnote when she joined the cast of the sitcom "'Til Death" (Fox 2006-10) as Allison "Ally" Stark: she was the fourth actress in four seasons to play this character, following Krysten Ritter, Laura Clery, and Lindsey Broad. While continuing her career with Garfunkel and Oates and her steadily-increasing television work, Micucci garnered her highest-profile film role to date in the romantic comedy "When In Rome" (2010), playing the best friend of Kristen Bell's female lead. She also began a recurring role on the slapstick sitcom "Raising Hope" (Fox 2010- ) as ukulele-playing day care owner and pet-sitter Shelley. In early 2013, Micucci began another recurring role on the hit sitcom "The Big Bang Theory "(CBS 2007- ) as Lucy, the pathologically shy love interest of astrophysicist Raj Koothrappali (Kunal Nayyar). She also provided the voice for younger brother Jay Stevens, on "Out There" (IFC 2013), a surreal animated dramedy about small-town adolescence. Micucci soon became an in-demand voice actor, appearing in the series "Steven Universe" (Cartoon Network 2013- ), "Teenage Mutant Ninja Turtles" (Nickelodeon 2012-17) and others; in 2015, she took over the role of Velma Dinkley beginning with "Be Cool, Scooby-Doo!" (Cartoon Network 2015-). On the big screen, Micucci provided voice work in the animated hits "Rio 2" (2014), "The Spongebob Movie: Sponge Out of Water" (2015), and "The Lego Batman Movie" (2017). Micucci and Lindhome landed their own series, "Garfunkel and Oates" (IFC 2014), but it was canceled after a single season; Micucci also appeared in another of Lindhome's projects, the sitcom "Another Period" (Comedy Central 2015- ). Micucci co-starred in Mike Birbiglia's comedy-drama about an improv-comedy troupe, "Don't Think Twice" (2016), and in Jeff Baena's "The Little Hours" (2017), a comedy set in a 14th-century Italian convent.
Photos
Kate Micucci
WHEN IN ROME, Kate Micucci, 2010. ph: Myles Aronowitz/©Walt Disney Studios Motion Pictures
None
None
None
None
The Big Bang Theory, Kate Micucci (L), Kunal Nayyar (R), 'The Closure Alternative', Season 6, Ep. #21, 04/25/2013, ©CBS
The Big Bang Theory, Kate Micucci (L), Kunal Nayyar (R), 'The Closure Alternative', Season 6, Ep. #21, 04/25/2013, ©CBS
King of the Nerds, Kate Micucci (L), Riki Lindhome (R), 'Season 2', ©TBS
King of the Nerds, Kate Micucci (L), Riki Lindhome (R), 'Season 2', ©TBS
King of the Nerds, Kate Micucci (L), Riki Lindhome (R), 'Season 2', ©TBS
The Big Bang Theory, Kaley Cuoco (L), Kate Micucci (R), 'The Itchy Brain Simulation', Season 7, Ep. #8, 11/14/2013, ©CBS
THE LITTLE HOURS, FROM LEFT: KATE MICUCCI, ALISON BRIE, AUBREY PLAZA, 2017.
The Big Bang Theory, Kate Micucci (L), Kunal Nayyar (R), 'The Closure Alternative', Season 6, Ep. #21, 04/25/2013, ©CBS
RAISING HOPE, from left: Kate Micucci, Shannon Marie Woodward, Lucas Neff, Todd Giebenhain, 'Modern Wedding', Season 3, Ep. #14, 01/29/2013, ©FOX
Garfunkel and Oates, Kate Micucci (L), Ari Graynor (C), Riki Lindhome (R), 'Third Member', Season 1, Ep. #6, 09/11/2014, ©IFC
Garfunkel and Oates, Kate Micucci (L), Ari Graynor (C), Riki Lindhome (R), 'Third Member', Season 1, Ep. #6, 09/11/2014, ©IFC
WHEN IN ROME, from left: Kate Micucci, Kristen Bell, 2010. ph: Myles Aronowitz/©Walt Disney Studios Motion Pictures
Garfunkel and Oates, Kate Micucci (L), Riki Lindhome (R), 'Third Member', Season 1, Ep. #6, 09/11/2014, ©IFC
Garfunkel and Oates, Riki Lindhome (L), Kate Micucci (R), 'Hair Swap', Season 1, Ep. #5, 09/04/2014, ©IFC