The Little Hours
(2017)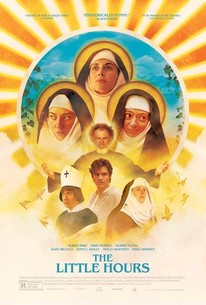 TOMATOMETER
AUDIENCE SCORE
Critic Consensus: The Little Hours gets plenty of goofy mileage out of its gifted ensemble, anchoring its ribald laughs in a period comedy with some surprisingly timely subtext.
Movie Info
Medieval nuns Alessandra (Alison Brie), Fernanda (Aubrey Plaza), and Ginevra (Kate Micucci) lead a simple life in their convent. Their days are spent chafing at monastic routine, spying on one another, and berating the estate's day laborer. After a particularly vicious insult session drives the peasant away, Father Tommasso (John C. Reilly) brings on new hired hand Massetto (Dave Franco), a virile young servant forced into hiding by his angry lord. Introduced to the sisters as a deaf-mute to discourage temptation, Massetto struggles to maintain his cover as the repressed nunnery erupts in a whirlwind of pansexual horniness, substance abuse, and wicked revelry.
News & Interviews for The Little Hours
Critic Reviews for The Little Hours
Audience Reviews for The Little Hours
Kudos to whoever edited the trailer because one got the impression that The Little Hours was a very funny flick. Not so for the other 88 minutes. Mildly amusing at the start with a "nuns just wanna have fun (sex)" romp but soon fizzles. Molly Shannon is wasted in what could have been a decent role. Beginning to dislike Brie and Plaza. Dave Franco can't act. (7-23-17)
½
A BAD HABIT - My Review of THE LITTLE HOURS (2 1/2 Stars) An anachronistic story about medieval nuns starring Aubrey Plaza, Alison Brie and Kate Micucci? Yes, please! Sprinkle in performances by Molly Shannon, John C. Reilly, Dave Franco, Fred Armisen, Nick Offerman, Jemima Kirke, Adam Pally, and the sublime Lauren Weedman from LOOKING? Sign me up! And then the movie plays out and.....PFFFFFFTTTTTT! What happened to this movie? Writer/director Jeff Baena (LIFE AFTER BETH), in an honorable attempt to give us a mashup of John Waters' shaggy, subversive DESPERATE LIVING and any number of Mel Brooks' comedies, delivers a fun concept and an expert cast, but falls terribly flat when it comes to jokes and forward momentum. Our starring triad play nuns in the Middle Ages who suffer no fools. They hurl expletives at the help with a surprising, and surprisingly hilarious, viciousness. Aubrey Plaza in particular has no right to ever be in a period piece, and most of the film's humor capitalizes on this fact. I'm a sucker for her deadpan style, so I found myself laughing often enough even when not much seemed to be happening. Franco plays the newly hired hand, Massetto, after the nuns scare the prior one away. Massetto has escaped certain death by the hands of the King (Offerman) when caught sleeping with his wife (Weedman). I could have used a good 10 more scenes with Offerman and Weedman, as they completely and wonderfully understood what movie they're in, delivering slightly off-putting, delectable performances. When he arrives at the convent, he must pretend to be deaf and mute to put a lid on temptation lest he blow his cover. From there, things devolve, unleashing a pansexual frenzy and then...well, the movie kinda just ends. Fred Armisen shows up late in the game to deliver a master class in annoying comedy (I mean that as a high compliment), but by then, I was so tired from not laughing nearly as much as I had hoped. I've struggled trying to put my finger on what went wrong. This isn't a case where there was no script and the filmmaker hoped his wildly talented actors would just make things work. Baena clearly has a vision, a slightly flat, unpretentious look at the dark underbelly of religion. While Plaza shines, Alison Brie has very little to play and Micucci's wide eyes make just the sight of her in a tight habit a visual joke. Obviously low budget, the whole production seems to relish in its "let's put on a show" qualities. It's going for the droll tone of WET HOT AMERICAN SUMMER and perhaps SNL's Kyle Mooney's truly funny, anti-humor videos. Adding Borscht-Belt rat-a-tat jokes would have upset the balance, but we're left with something strange, something occasionally funny, but in the end, truly forgettable.
Glenn Gaylord
Super Reviewer
The Little Hours Quotes
There are no approved quotes yet for this movie.
Discussion Forum
Discuss The Little Hours on our Movie forum!