Rudderless
(2014)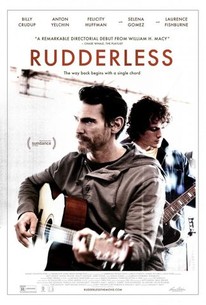 TOMATOMETER
AUDIENCE SCORE
Critic Consensus: Rudderless asks its cast to carry an awful lot of weight for its occasionally manipulative story; fortunately, this talented bunch -- led by Billy Crudup -- is often more than up to the task.
Movie Info
Billy Crudup plays Sam, a former high-profile advertising executive whose life is torn apart by the sudden death of his son. Living off the grid on a docked sailboat, he wastes away his days while drowning his pain in alcohol. When Sam discovers a box filled with his son's demo tapes and lyrics, his own child's musical talent is a revelation for him, a grieving father who felt he'd been absent from his son's life. Communing with his deceased son's dashed dreams, Sam learns each song and eventually musters the will to perform one at a local bar. When Quentin (Yelchin), a young musician in the audience, is captivated by the song, the unlikely duo forms a rock band that becomes surprisingly popular and revitalizes both of their lives. (C) Paramount
People Who Like this movie also like
News & Interviews for Rudderless
Critic Reviews for Rudderless
Audience Reviews for Rudderless
A father discovers a box of tapes and joins a band which covers his dead son's songs. With a soaring, remarkable soundtrack, fantastic, touching performances by the whole cast, and an almost unmatched story, William H. Macy's directorial debut is a tour de force. The first act is a compelling story about recovery, and the second act explores the relationship between Sam, Billy Crudup's grieving father, and Quentin, Anton Yelchin's young, insecure musician, but it's the third act that turns the entire story on its head in a reveal that's both surprising and completely natural. Overall, this indie drama is incredible.
Jim Hunter
Super Reviewer
I don't want to give anything away, but this little indie gem tackles grief, guilt, parenthood, redemption - all with expertly revealed exposition, compassionate performances, and a soaring soundtrack.
Alice Shen
Super Reviewer
½
I love "music" films and I love Anton Yelchin so I was really looking forward to this. Overall, I did really enjoy the film. But I do have some nitpicks. I know the story is really about Sam (Billy Crudup) and his journey. But I would have liked to see more insight on his son Josh. Especially since the twist reveals him to be the shooter. The movie never really gives us that sense that he is a kid about to go off his rails. If the movie couldn't have given us that insight, then I think it would have been better just making him one of the victim's of some nameless shooter. Secondly, Selena Gomez was the weakest actor of the bunch. I thought her first scene was good, but then when we see her again she was just so over dramatic to me. I didn't totally buy Quentin (Anton Yelchin) being so invested in Sam to the point where he would show up at his home the next day with coffee and doughnuts already wanting to work together. Based off one song he heard. I also didn't care for William H Macy inserting himself into his own film. The movie makes up for it though with really good music and a shining performance by Billy Crudup. It's worth a see.
Rudderless Quotes
There are no approved quotes yet for this movie.