The Longest Week
(2014)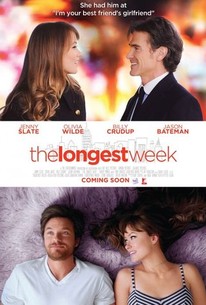 Movie Info
Affluent and aimless, Conrad Valmont lives a life of leisure in his parent's prestigious Manhattan Hotel. In the span of one week, he finds himself evicted, disinherited, and... in love. (c) Gravitas Ventures
Rating:
PG-13 (for sexual content and smoking)
Genre:
Directed By:
Written By:
In Theaters:
On DVD:
Runtime:
Studio:
News & Interviews for The Longest Week
Critic Reviews for The Longest Week
Audience Reviews for The Longest Week
½
Sadly, a $1000 frame on some crayon scribbles. The production values are top shelf. A quirky fun soundtrack, coupled with a cleverly droll narration serve fine performances and lovely cinematography. Unfortunately, the story is so vacuous, even at 80 minutes it seemed to run on forever. Wish I could have those 80 min back.
Ted Cox
I do not get why there is so many negative reviews about this wonder film! Yes it has some Woody Allen inspiration in it as well as the dialogue, but you can not say the director didn't do a wonderful job in this film. His shots were very beautiful and and point !
Fabio Vera
Meh. Doesn't really feel like its own unique film, rather it's a collection of a variety of different styles from other filmmakers. By and large, stylistically, in the way Peter Glanz frames his shots, I'm reminded of Wes Anderson. Thematically it almost seems like a bit of Woody Allen and Noah Baumbach. In short, it's a film that does not have its own identity. It's the very definition of derivative. That's not much of a problem if you tell a good story with the pieces that you have. Clearly, if you haven't noticed yet, this was not a good story. The film makes some reference, through one of its supporting characters in one conversation, to its own narcissistic lead characters and how that makes it hard to relate to any of them or to care about any of their 'struggles' since they never face consequences for any of their actions. Partly, this conversation is in there to make Peter Glanz look like he's a clever writer, in that he's aware this conversation I'm referring to could very easily be describing his own lead characters. And that sort of self-indulgent wankery, felt the need to be redundant, is counter-productive to the story that you would like to tell. The fact of the matter is that Peter Glanz, at least as of now, is not Wes Anderson, Woody Allen OR Noah Baumbach. He's likely never to be any of those three, so why even bother trying to imitate those three? It could be possible that Glanz thought he was making a film that was unequivocally him but it doesn't come across that way in execution. The film isn't even that bad, it's got some interesting pieces, such as the cast, which is probably the best thing about the film, and some insight into the mind of someone that is as affluent as Conrad and his thought-process. But it doesn't do nearly that I found interesting or that I found was actually good. It's not that the lead was unlikable. As long as a character is well-written, or interesting, then it doesn't matter if they're the biggest asshole in the world, at least they're telling a story that I would enjoy. Tying it back to Jason Bateman, Arrested Development has some of the most narcissistic, selfish, racist and unlikable characters in the history of any television series. But the fact that the show was so expertly written, and hilarious to boot, made it work. You don't have to like a character as a 'person' in order to enjoy what they're going through. I just don't think Conrad's arc as a character is something that I really wanted to invest in. Not that it's poorly written, it's just that, by and large, it really has nothing to say. It doesn't change my views on anything. The acting is pretty good, all around, so nothing to complain about on that front. That's, easily, the best part about this film. It's not like it's an all-time great cast, but they do their best with a script that almost cripples them from the start. That's the only reason, and Glanz's technical prowess, this gets two stars. With that said, I do look forward to Glanz's next effort. I think that if he focuses more on being himself, as opposed to be Woody Allen, Wes Anderson or Noah Baumbach, or any other independent filmmaker he may admire, then I think he could make a truly great film. With that said, this isn't terrible, but I wouldn't exactly go out of my way to watch it. You won't be missing absolutely anything of note if you skip this.
Jesse Ortega
Super Reviewer
Discussion Forum
Discuss The Longest Week on our Movie forum!