The Mercenary (Il Mercenario) (A Professional Gun)
(1968)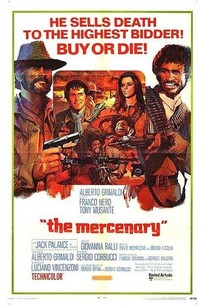 AUDIENCE SCORE
Critic Consensus: No consensus yet.
The Mercenary (Il Mercenario) (A Professional Gun) Photos
Movie Info
In this Spaghetti western, a brave cowboy is hired to help a Mexican mine owner smuggle his silver to Texas during the Mexican Revolution. Along the way, he must confront a Mexican regiment that tries to claim the mine for themselves. He then begins a series of bank robberies.
Critic Reviews for The Mercenary (Il Mercenario) (A Professional Gun)
Audience Reviews for The Mercenary (Il Mercenario) (A Professional Gun)
½
Hard to rate this one. I saw it in the theatre when I was 13-15, and it made a strong impression on me. Seeing it again it is clear to me why it did. Morricone's music is stellar. Everything visual in this movie is stunning. The story is unusual and clever. The problem: the movie is REALLY dated. I think every cliché and trope about Mexico and revolutions is trotted out. I found myself thinking about a Mad Magazine send up of spaghetti Westerns that commented on laughing Mexicans played by Italian actors. Still worth seeing.
Morris Nelms
Super Reviewer
½
It's like an unofficial prequel to Companeros, but that's not a bad thing at all. In fact, it's almost just as fun and I feel as though Jack Palance's character was even more evil in this. Franco Nero is pretty hilarious as a gluttonous mercenary who manipulates a gang of Mexican revolutionaries. Tony Musante is nothing compared to the Italian superstar known as Thomas Milian, but considering that this came out before Companeros it doesn't make the movie lacking anything expected. Sergio Corbucci may have not been quite as talented as Sergio Leone, but he has quite the collection of amazing spaghetti westerns under his belt. This is in my opinion way more violent than The Wild Bunch so if you're looking for machine guns up the wazoo and carnage galore, this is it.
Conner Rainwater
Super Reviewer
In many ways this feels like the foundation of what would be "Compañeros". The chemistry between Nero and Musante is not as strong as the one the first has with Tomas Milian. The movie is fun but it feels that is making the story as it goes. Morricone is great as usual, not that you need to be told anyway.
Tsubaki Sanjuro
Super Reviewer
The Mercenary (Il Mercenario) (A Professional Gun) Quotes
There are no approved quotes yet for this movie.