The Post
(2017)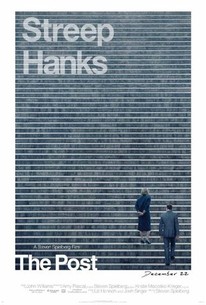 TOMATOMETER
Want to See
Critic Consensus: The Post's period setting belies its bitingly timely themes, brought compellingly to life by director Steven Spielberg and an outstanding ensemble cast.
Movie Info
Steven Spielberg directs Meryl Streep and Tom Hanks in The Post, a thrilling drama about the unlikely partnership between The Washington Post's Katharine Graham (Streep), the first female publisher of a major American newspaper, and editor Ben Bradlee (Hanks), as they race to catch up with The New York Times to expose a massive cover-up of government secrets that spanned three decades and four U.S. Presidents. The two must overcome their differences as they risk their careers - and their very freedom - to help bring long-buried truths to light. The Post marks the first time Meryl Streep, Tom Hanks and Steven Spielberg have collaborated on a project. In addition to directing, Spielberg produces along with Amy Pascal and Kristie Macosko Krieger. The script was written by Liz Hannah and Josh Singer, and the film features an acclaimed ensemble cast including Alison Brie, Carrie Coon, David Cross, Bruce Greenwood, Tracy Letts, Bob Odenkirk, Sarah Paulson, Jesse Plemons, Matthew Rhys, Michael Stuhlbarg, Bradley Whitford and Zach Woods.
News & Interviews for The Post
Critic Reviews for The Post
Audience Reviews for The Post
½
The Post is as much a movie as it is a strict documentation of a sequence of events that deal in something as fleeting as time and the importance man places upon the construct of time. Time, by all definitions, is a mental construct used to make sense of movement. There is a great sense of the collusion between time and movement in the latest from director Steven Spielberg and how what man has created to help maintain order can also spin us into the very midst of confusion as chaos is so often categorized. Simply by defining how long something has the potential to be powerful or life-changing we set ourselves up for large successes or failures. It is no surprise then that Spielberg focuses not on the passage of time or how this fleeting thing called life is formed against the backdrop of the time we just so happen to have been born into or exist within, but rather how time is what we do with it. What defines our lives and the time we are able to spend on this earth is not simply how we make it through one day to get to the next, but by the actions we take, the strides we make, and the deadlines we set for ourselves and either meet or don't. It's a thesis based on the hope that nobility is a prized possession in any viewer that sits down to take in history as told by the movies. This thesis of sorts is meant to both stir something deep within for the pride in one's country that allows for, "the press to serve the governed, not the governors," while at the same time utilizing this message to remind us all that history undoubtedly repeats itself. One would be remiss to go through a full discussion around The Post without mentioning its relevancy, but more so-its poignancy-in relation to the present state of the world and the leaders that are in power; utilizing their power for personal gain and favorable poll numbers rather than in the interest of world peace. Our present day is not the world the characters in The Post thought they were shaping or being bold enough to attempt to usher society into and while Spielberg makes no direct indication of his intent the opportunistic quality of the project is enough to suggest as much. It would be futile to not mention such obvious parallels and why this film in particular feels more like a product of today despite taking place forty-six years ago. This isn't a negative in terms of how it plays throughout the narrative either, but is more a return to this idea of time, time as a construct, and how it isn't a neat and tidy sequence of events one can always apply a narrative to, but something that is forever reminding us, the human race, what we must do and what values we must continue to uphold in order to ensure our continued survival. The Post may not exactly be a revelatory piece of work, but it is certainly a direct and not so gentle reminder there has to be examples of the best of us in the worst of times. read the whole review at www.reviewsfromabed.com
Philip Price
Super Reviewer
½
SOME OF THE PRESIDENT'S MEN - My Review of THE POST (3 1/2 Stars) Movies about journalists/reporters occupy a warm place in my cold, dead heart. I thrilled to the level of detail in such films as SPOTLIGHT, NETWORK, BROADCAST NEWS, SALVADOR, ABSENCE OF MALICE, and THE INSIDER. THE POST, the latest film directed by Steven Spielberg and written by first timer Liz Hannah and Oscar winner Josh Singer for SPOTLIGHT, enters the fray with mixed results. On the one hand, it's a big canvas, smart, sometimes thrilling piece of populist filmmaking, but thankfully directed with a level of restraint we've seen from Spielberg with such films as MUNICH, BRIDGE OF SPIES, and SCHINDLER'S LIST. While not quite on their level, THE POST comes out a winner because of its obvious relevancy to our current press-hating presidential administration. It almost comes off as a Hollywood Liberal FUCK YOU, TRUMP, but its craft, performances, and attention to the little details makes it a much richer experience than that knee-jerk characterization. It's also a cleverly made prequel of sorts to ALL THE PRESIDENT'S MEN, to me, the best of the journalist movies, which detailed Washington Post investigative journalists Bob Woodward and Carl Bernstein's uncovering of the Watergate Scandal. Their efforts led to the resignation of President Nixon in 1974. A couple of years prior to Watergate, Daniel Ellsberg (Matthew Rhys), a Military Analyst for The Rand Corporation released The Pentagon Papers to The New York Times, Washington Post and other newspapers. These Top Secret documents revealed that the War in Vietnam could not be won, yet the government still sent our young soldiers needlessly off to die, to the tune of over 58,000 people. These papers came to the attention of Washington Post Editor Ben Bradlee (Tom Hanks) and its publisher Katharine Graham (Meryl Streep), setting off a series of moral, ethical, economic and legal conflicts. Nixon's administration threatened the newspapers with a violation of the Espionage Act, which could send them all to prison, leaving Graham and Bradlee with some tough decisions to make. The work of the street-level reporters gets represented mainly by Bob Odenkirk in a truly fine, nervous and specific portrayal of Ben Bagdikian. We meet a lot of the Post staff, who, while all effective, only have little moments, despite being played by such wonderful actors as Carrie Coon, Jessie Mueller, Tracy Letts, Bradley Whitford, and an unrecognizable David Cross (without his trademark beard!) as Bradlee's Managing Editor. So with the exception of Odenkirk, this is mainly the Tom and Meryl Show, and neither disappoint. Part of me feels that the story was reverse engineered to accommodate both stars. Neither could play cub reporters, so the emphasis lies here with the problems of the wealthy leaders. Although both are dynamic and charming, I wondered what this film could have been had Odenkirk been driving the entire story. Perhaps it would have played like a carbon copy of PRESIDENT'S MEN, so this different point of view sets it apart. Despite its champagne problems milieu, the stakes for the future of our country, that a free press NEEDS to hold the government accountable, couldn't have been higher. It's a lesson we all need to heed right about now. Occurring over a relatively short period of time, the story comes across as a tug of war, constantly keeping the audience wondering if the Post will publish the Pentagon Papers or not. It's a fine premise, if a little overextended, and a little monotonous at time with the endless discussions occurring either in mansions or newsrooms. Streep, however, with her shock of 60's Holdover Hairdo, and billowing outfits, captivates every moment she's on screen. Watching her pause endlessly while she makes a decision proves to be one of the most thrilling scenes in a film this year. She's a Washington insider with deep, personal relationships with people such as Robert McNamara (Bruce Greenwood), the Secretary of Defense and major player in the path toward war with North Vietnam. If you've never seen his first person documentary, Errol Morris' Oscar winning THE FOG OF WAR, it's a stunning mea culpa and a terrific companion piece to this film. Graham finds herself drawn towards her loyalty to her rich and powerful friends, yet also knows all too well how dubious the war was, one in which her son was sent off to fight. We feel the weight of the world on her shoulders, and as such, THE POST becomes a rallying cry for feminism, for a woman finding her voice and struggling to champion what's good and right and decent in this country. A stunning shot of Streep walking by a sea of women, another triumph for Spielberg's longtime cinematographer Janusz Kaminski, silently spells out the growing sisterhood to come from the actions of people like Graham. Hanks, while no Jason Robards, captures Bradlee's famous crankiness and aggressive editing style. There's a great sequence in which a low-level reporter receives some of the Pentagon Papers in a shoebox on his desk. Meekly walking into the Editor's office, Bradlee shoos him away with a forceful, "No!", only to have the poor guy immediately walk the evidence over to the Managing Editor. While Hanks marvels at what these documents represent, the reporter quietly details what the person who dropped them off looked like. It's a great touch in showing the different levels of power at a newspaper. Hanks leads his staff with a striking confidence and great humor. Robards gets the Iconic status with his portrayal in PRESIDENT'S MEN, but Hanks' performance can't be denied as thoroughly winning. The devil's in the details with THE POST, and it's filled with moments such as the one above. I loved the little girl's story of her lemonade stand, Odenkirk's very human struggling with coins at an old-fashioned pay phone, the fact a woman recites a Supreme Court verdict to a roomful of reporters, or the intricacy of creating plates for the printing press. These little gems go a long way towards humanizing such an earth-shattering event. On the down side, I found John Williams' music to be a tad maudlin. It's an old school Hollywood score and leans too sappy in the final stretch, a rabble rousing bit of filmmaking which could have sold its moments with something with a little more early 70s edge to its sound. It's also a rare, non-superhero movie with a super-hero style tag at the end, setting itself up for a sequel, or perhaps as a way to get people to watch ALL THE PRESIDENT'S MEN. If it achieves that, then it will be a triumph of sorts. I also missed what should have been bigger contributions from the supporting cast, but as a document of a moment in history where the scales tipped towards more corruption, THE POST has great merit. In the end, it feels like Spielberg's qiuet, yet primal scream at the Trump Era....and to that, I say, "Whoo hoo!!"
Glenn Gaylord
Super Reviewer
The Post Quotes
There are no approved quotes yet for this movie.
Discussion Forum
Discuss The Post on our Movie forum!