The Rider
(2018)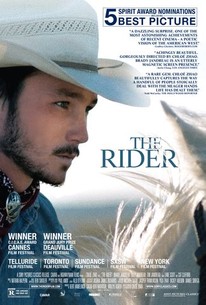 TOMATOMETER
AUDIENCE SCORE
Critic Consensus: The Rider's hard-hitting drama is only made more effective through writer-director Chloé Zhao's use of untrained actors to tell the movie's fact-based tale.
Movie Info
Based on his a true story, THE RIDER stars breakout Brady Jandreau as a once rising star of the rodeo circuit warned that his competition days are over after a tragic riding accident. Back home, Brady finds himself wondering what he has to live for when he can no longer do what gives him a sense of purpose: to ride and compete. In an attempt to regain control of his fate, Brady undertakes a search for new identity and tries to redefine his idea of what it means to be a man in the heartland of America.
News & Interviews for The Rider
Critic Reviews for The Rider
Audience Reviews for The Rider
Zhao wisely sidesteps the inspirational narrative route and sticks to a simpler character study. The results are often poetic, but never pretentious or condescending. The use of untrained actors may be the most interesting choice, it only enhances the film's emotional potency.
Alec Barniskis
Super Reviewer
½
Despite lacking in dramatic intensity like its non-professional leading actor, The Rider is a perceptive character study that blends fact and fiction. Full review on filmotrope. com
Carlos Magalhães
Super Reviewer
½
BUCKING THE TREND - My Review of THE RIDER (4 1/2 Stars) Too often in films where the leads play themselves, they can come across as bad Lifetime movies. I'm talking to you TEARS AND LAUGHTER: THE JOAN AND MELISSA RIVERS STORY, or LIFE IS NOT A FAIRYTALE: THE FANTASIA BARRINO STORY. With writer/director Chloé Zhao's remarkable THE RIDER, she's created an almost new language for autobiographical storytelling. It's a stunningly beautiful achievement. Earlier this year, Clint Eastwood took a stab at experimentalism by casting the real-life terrorist-thwarting heroes to play themselves in THE 15:17 TO PARIS, and the results seemed mixed at best. Still, I applauded his willingness to think outside the box. Chloé Zhao doesn't even seem to be near a box with this drama/documentary hybrid. Some scenes feel like she's just observing these folks doing what they do best, while others have real dramatic heft. It's like a Terrence Mallick movie with an actual narrative. Brady Jandreau plays Brady, a Rodeo cowboy and horse trainer, who at the outset of the film, pulls staples out of his head to expose a massive gash from a horse-riding accident. Rodeo riders risk concussions, brain damage, paralysis and death to entertain crowds, and Brady has a long road to recovery ahead of him. He lives on a ranch in South Dakota with his hard-drinking father Tim and mentally challenged sister Lilly, again played by the real people. Brady has trouble with his hands, as they seem to freeze up whenever he grabs a rope. It's a recurring and visceral motif in this story, consistently reminding us of Brady's uphill battles. The deceptively simple story traces Brady's attempts to literally and figuratively get back on the horse. As if the physical issues weren't enough, Brady gets a barrage of differing opinions from doctors, his family, and his cowboy friends, who insist he "man up" and return to the circuit. THE RIDER excels with a gentle, low key approach where the drama never boils over, but instead feels in keeping with its stoic characters. It's an astute dissection of masculinity and what it means to be a man of the land. It helps that Zhao uses cinematographer Joshua James Richards, who with this and his previous film, GOD'S OWN COUNTRY, really knows how to make the audience feel the environments. THE RIDER looks just plain gorgeous with its panoramic vistas, but it also shows us the mundanity and plainness of the ranch interiors. There's an especially masterful nighttime campfire scene with Brady and his friends where it becomes so clear why people are drawn to this kind of life. Through it all, we stay tightly focused on Brady. His quiet, soulful performance feels so real and true. Despite his Marlboro Man demeanor, he shows an extremely warm, sensitive side in his interactions with his sister and with his friend Lane, who suffers in rehab no longer able to walk or speak after a life-threatening rodeo injury. It sounds maudlin, but these scenes in particular are anything but that. Lilly has an infectious spirit, and Brady never condescends to her, but instead lets her be a funny, wonderful, supportive sister. As the brother of a mentally challenged sister myself, I truly appreciated these scenes and was in awe of the kindness and patience on display. Moreover, his scenes with Lane have a sardonic streak as Lane uses sign language and wry facial expressions to communicate his sometimes salty feelings. It's impossible not to feel heartbroken when we see pre-accident footage of Lane, all cocky Master Of The Universe energy, but the movie also takes great care in showing us his light hasn't dimmed. A voice in the back of my head kept wondering where these characters stand on such subjects as politics, race, homosexuality and religion, but eventually I stopped caring and came to love these people. They may have few choices but to take part in a dangerous sport which is also cruel to animals, but they also love their horses, their land, and each other. Light on incident but rich in feeling, THE RIDER may challenge moviegoers who crave a little more excitement, but the patient will find a film of intense empathy, jaw-dropping photography, and a quiet side of America we don't see very often these days. It's the Bradys of this world, who leave a big impression with a tiny footprint who can Make American Great Again.
Glenn Gaylord
Super Reviewer
The Rider Quotes
There are no approved quotes yet for this movie.