The Shape of Water
(2017)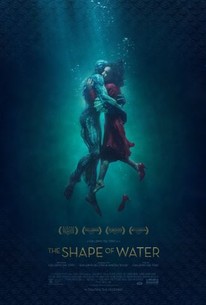 TOMATOMETER
AUDIENCE SCORE
Critic Consensus: The Shape of Water finds Guillermo del Toro at his visually distinctive best -- and matched by an emotionally absorbing story brought to life by a stellar Sally Hawkins performance.
The Shape of Water Videos
The Shape of Water Photos
Movie Info
From master story teller, Guillermo del Toro, comes THE SHAPE OF WATER - an other-worldly fairy tale, set against the backdrop of Cold War era America circa 1962. In the hidden high-security government laboratory where she works, lonely Elisa (Sally Hawkins) is trapped in a life of isolation. Elisa's life is changed forever when she and co-worker Zelda (Octavia Spencer) discover a secret classified experiment. Rounding out the cast are Michael Shannon, Richard Jenkins, Doug Jones and Michael Stuhlbarg.
News & Interviews for The Shape of Water
Critic Reviews for The Shape of Water
Audience Reviews for The Shape of Water
½
Guillermo del Toro has put enough unconventional spins on this narrative to overcome the story's potential predictability. Making the heroes a group of marginalized outcasts was a true stroke of genius.
Alec Barniskis
Super Reviewer
½
You haven't seen a romance like director Guillermo del Toro's latest monster mash (monster smash?), The Shape of Water. del Toro, an aficionado of cinematic creepy crawlies, has swerved from big-budget studio fare into a smaller, stranger period romance between a woman and an amphibious creature who already arrives pre-lubricated (I apologize already for that joke). I was compelled to watch The Shape of Water twice to better formulate my thoughts, mostly because I was not expecting the movie to be so enthusiastically whimsical, adult, and romantic, and the best beauty and the beast tale of this year. Elisa (Sally Hawkins) is a lonely mute woman working on the cleaning staff at a classified government laboratory. Her neighbor, Giles (Richard Jenkins), is a hopeless romantic trying to find his place in the world as a gay man. Her best friend, Zelda (Octavia Spencer), is supportive but thinks they should mind their own business. An Amphibian Man (Doug Jones) from the Amazon is confined to a cell and repeatedly beaten by Richard Strickland (Michael Shannon), the vile head of security at the station. They believe the creature's ability to breathe underwater and on land will be the key to winning the space race. The scientist in charge, Dr. Hoffstetler (Michael Stuhlbarg), is secretly a Russian spy, though his allegiances are more to the fragile creature than any country. Elisa teaches the creature sign language, the joys of hard boiled eggs, and lots of cheery music. She also falls in love with the creature and grows determined to save the Amphibian Man by breaking him loose. From the get go, del Toro drops us into a world that is not our own, as he's so skilled at doing. This version of 1960s Baltimore feels as though it's the twentieth century equivalent of a fairy tale village, and our monster is also the princess in need of rescue. Our heroine has a strange scar that foreshadows her place of belonging. The entire film bristles with a sense of expertly curated magic realism even though there isn't anything explicitly magical. The supernatural and fantastical are met with a casual acceptance, as they would be in any storybook legend of old. When Elisa discovers the Amphibian Man in his tank, it's literally at the ten-minute mark or even earlier, and she is unfazed. She immediately accepts the existence of this scaly mere-man, establishes a line of communication, and befriends the creature. It's as if del Toro is trying to prime the audience for what's to come and hoping to skip over the intermediate waiting period of incredulity. For del Toro, the real fun is once the characters connect, and belaboring that necessary connection is not in the audience's best interests or time. The movie glides by on effusive outpouring of charm, given such vibrant, sweeping life thanks to del Toro's repertoire of pop-culture influences and his passionate love of cinema. The Shape of Water feels like del Toro and co-writer Vanessa Taylor (Hope Springs) took one of the old Universal horror B-movies and decided to make it into one of the most personal, delightful, and curious filmgoing experiences of the year. It's film as escape for society's outsiders. The sense of whimsy is ever-present without being overpowering or diluting the drama. It never feels quirky for its own sake of satisfaction. You'll recognize several of del Toro's artistic references, the re-purposing of cultural artifacts, but the magic suffused within every frame is thanks to del Toro and his team of filmmaking artists. If Amelie was going to fall in love with a sea creature, it might look something like this The Shape of Water. The movie is also surprisingly, refreshingly adult in its depiction of human beings. Again the opening minutes set a standard of what to expect. We get a sense of Elisa's daily routine before leaving for work, and one crucial component involves furious masturbation in her bathtub (set to an egg timer for sport?). This is a far more sensual movie than I was ever anticipating. There are multiple sequences of Hawkins disrobed and offering herself to the Amphibian Man. We never see any underwater action but we do hear about some of the mechanics of how the coupling is even remotely possible physically ("Never trust a man," Zelda chuckles upon hearing those dirty details). It's not all sexy time indulgences. There's a sharp undercurrent of very real and very upsetting violence, typified by Strickland's ruthless determination to break the creature. He's a Bible-thumping sadist generally dismissive of those he finds different and lesser and yet he's drawn to Elisa. Why is that? Because she's a diminutive woman who cannot talk, and this sexually excites him like nothing else. He even comes on to her, thinking his interest is a form of masculine charity. There are some shocking moments of very real violence and its lingering effects. Strickland's on-the-job injury becomes a metaphorical moral gauge for the putrid character's state of being. The Shape of Water is a movie that does not blunt anything, whether it's the sexuality or violence of its story (beware pet lovers: this is the second 2017 entry where an amphibian being hidden from the government eats somebody's house cat). This is a fable for adults, a grimy Grimm's tale with a sprinkle of Old Hollywood sparkle. The Shape of Water is also a deeply romantic and earnest love story about two outsiders finding a connection in the most unlikely of places. Engineering a story that pushes two oddball characters together, each finally finding a kindred spirit, is an easy recipe for a satisfying conclusion; however, their romantic connection has to feel rightly earned. If we don't believe the characters have fallen for one another, that this potential relationship elevates their existence, that the colors of the world seem brighter when around this person, then it doesn't work. You have to buy the love story and it must be earned. Amazingly, del Toro is able to craft a love story with a mute woman and an Amphibian Man that checks most of the boxes of Hollywood romantic escapism. Elisa has an openhearted way of looking at the world, and her acceptance provides her with a bravery few others have. The creature presents somebody who views her not as a woman with a disability, as something lesser, but as something whole and wholly fulfilling. Everyone wants to be truly seen by someone for who they are rather than what they're not. While del Toro is supremely skillful at making Elisa's romantic yearnings felt, there is one inherent weakness in this girl-meets-fish dude tale of love. The Amphibian Man isn't really much of a character and far more of a symbol to the other characters. To Elisa, he's her hope. To Giles, he's a wild animal. To Strickland, he's a defiant challenge to be tamed. To Zelda, he's the questionable new boyfriend for her pal. To Hoffstetler, he's a beautiful creature. To the U.S. government, he's a potential scientific breakthrough. To the Soviets, he's a liability and a potential future weapon. We're told the indigenous people of the Amazon worshiped the Amphibian Man as a god but ultimately he remains a cipher others project onto. The love story feels a little too one-sided from an audience investment perspective. Still, the romance works and that fact alone is incredible considering the unique pairing. Hawkins (Maudie) is the beating heart of the movie and delivers a wonderfully expressive portrait of a woman finding her voice, so to speak. She's relatively upbeat and that fits the whimsical tone of the picture. Hawkins plays a woman excited by the possibilities of the world. She reminded me of Bjork's tragic heroine from 2000's Dancer in the Dark, a woman who saw the extraordinary in ordinary life, who could perceive a symphony of music just on the outer edges of everyone else's hearing. Going completely wordless for the movie, save for one very memorable fantasy sequence, requires a lot of daunting physical acting from Hawkins, and she's more than up to the task. I guarantee a scene where she tearfully forces Giles to say out loud her signing will be her Oscar nomination clip. When we talk about the weird and wild promise of cinema, it takes a controlled, assured vision and precise execution to bring together the dispirit elements and allow them to coalesce into something that feels like a satisfying, mesmerizing whole. The Shape of Water is del Toro's gooey love letter to monster movies while stepping outside of homage and into the realm of something daring and different. I could talk about the Busby Berkley musical number as declaration of love, or that the story is told from socially marginalized voices finding an affinity together, or the small character moments that give generous life to supporting figures like Zelda and Hoffstetler, or that it leaves implied stories to be chewed over for extra richness like Giles likely being outed at his work to the dismay of his closeted superior, or the perfect casting for secondary antagonists, or the exquisite cinematography that seems to utilize every shade of green the human eye is capable of seeing, or the stunning production design, or the sweetly eccentric whistling musical score by Alexadre Desplat, or the grace of Doug Jones' performance in the amphibian suit, or just how funny this movie can be, even the sadistic villain. I could talk about all that stuff but I'll simply condense it all to a plea to give The Shape of Water a chance. It's rare to see a storytelling vision this precise that's also executed at such a high degree of difficulty. In other hands, this could have been an unholy mess. With del Toro, it's a lovely mess. Nate's Grade: A-
Nate Zoebl
Super Reviewer
½
A PURIFIED BEAUTY - My Review of THE SHAPE OF WATER (4 1/2 Stars) I turned to my friend Dennis at the end of this film and said, "Oh good God, that was beautiful!". I want to start with that. Every single shot drips with gorgeousness. Directed by Guillermo del Toro (PAN'S LABYRINTH) and co-written by Vanessa Taylor (HOPE SPRINGS), THE SHAPE OF WATER works as a love story, a Cold War thriller, and a salute to the outcasts and disabled among us. Set in 1962 Baltimore, Elisa Esposito (Sally Hawkins) works alongside Zelda (Octavia Spencer) as janitors at a secret government facility. A shot of Zelda using a feather dusters on a giant piece of hanging equipment felt like a Tim Burton/Terry Gilliam visual explosion. It announces that we're in a type of alternate reality, where greens and browns clash with steel to create a deco/steampunk, larger than life aesthetic as a backdrop to our cast of outsiders. Elisa, rendered mute when abused as a child, communicates via sign language and through her indelibly expressive eyes. No shrinking violet or squeaky clean saint, Elisa has a rascally temperament and a penchant for masturbating in her tub. Her next door neighbor, Giles (Richard Jenkins), struggles with a failing art career and the obstacles to being gay at a time where there was no public acceptance. Let's also not forget that Zelda also deals with racism at a time when black people were hosed down in the streets and she's got a husband named Brewster who gets painted in mainly by her complaints about him. One day at work, an "Asset" gets wheeled into a lab. Looking very much like the Creature From The Black Lagoon and wonderfully played by Doug Jones, it becomes a very wanted amphibian. Russian spies lurk in the shadows ready to take it from the Americans, and on the opposite side, government Agent Richard Strickland (Michael Shannon), who escorted the creature to the U.S from the Amazon, takes great delight in torturing him with his ever-present cattle prod. Strickland represents every Angry White Racist American who basks in their unearned privilege. He seems to be in a constant state of contempt for anything that's different, much like so much of America at the time...and currently, sadly. He heartlessly has sex with his classic early 60s housewife, names his cattle prod, the Alabama How-dee-doo, because, he's a raging asshole, and considers the creature an affront to God, while also wondering if it IS a God. He's torn folks, but Shannon, because he's a great actor, still manages to find vulnerability and some pretty good detective skills inside his monster of a character. One day, a horrific incident occurs in the lab, prompting Elisa and Zelda to clean up the mess. It's here where Elisa starts to bond with the creature. She teaches him sign language, plays classic Big Band records for him, and shows him the kindness nobody else does. A sympathetic researcher, Dr. Robert Hoffstetler (played by Michael Stuhlbarg, who's having a very good year in his career between this, CALL ME BY YOUR NAME, THE POST, and his turn on the series, FARGO), notices this bond, which reveals an agenda of his own. All told, the Americans want to destroy the creature, and Elisa kicks the story into motion by trying to save him. The love they have for each other proves as unexpected as it is dreamy, delirious, and carnal. Elisa's scene in which she explains how the creature doesn't see her "flaws" is a high water mark of expression for Hawkins, who deserves ALL the awards for her performance in this film. At times I was reminded of Mia Farrow in THE PURPLE ROSE OF CAIRO, who, like Hawkins, delivered a silent-movie-style performance. The joy Farrow found at the movies mirrors the joy Hawkins finds with the creature. Both are the very models of acting from the soul. The filmmaking style, in addition to the aforementioned filmmakers, also feels a bit like Marc Caro and Jean-Pierre Jeunet of DELICATESSEN fame, old Hollywood musicals, BEAUTY AND THE BEAST, and early 50s sci-fi such as THE DAY THE EARTH STOOD STILL. Cinematographer Dan Laustsen (CRIMSON PEAK) works with del Toro to whip up a movie lover's frenzy. It's no coincidence that Elisa and Giles live above a struggling movie theatre. In one memorable moment, Elisa finds the creature gesticulating before the big screen. The camera always seems to be in the right place, giving us painterly images at every turn, and always focusing on Elisa's changing moods. Production Designer Paul D. Austerberry doesn't have anything in his credits to suggest he could create such a specific, glorious but ominous world for our characters to inhabit, but his work is among the best of this year. Alexandre Desplat's score evokes lush, romantic movies of days gone by, especially the French classic, THE UMBRELLAS OF CHERBOURG. It's sweeping and memorable. I suspect many will take issue with the fact that del Toro operates more in romantic mode than in his usual thriller style, but I found him remarkably connected to this story. It may come across as a little light and undercooked, but I was caught up in its spell. His directing seems to ache for his characters. Yes, Hawkins delivers the lion's share of emotion, but Jenkins will break your heart in a diner scene where he comes on to the waiter. Spencer, who has clearly connected with her Civil Rights Era ancestors in prior films, STILL manages to find something different to play here. Her Zelda, while just as spunky and sly as past characters such as those in THE HELP and HIDDEN FIGURES, reveals herself to be a terrible liar. The tension she brings to scenes in which she's required to do so show us a scared, tender side. I loved her emerging heroism in this film. Where else do you get to root for a woman with a disability, a gay man, a black woman, and a tortured "movie monster" all in the same film? And then there's the water. Presented throughout the film with poetic beauty as droplets traveling across a bus window, or flooding an apartment to allow for a deeper connection between two characters, or the magnificent final shot, the metaphor of it comes into focus, washing over the viewer with a consistent euphoria from start to finish. THE SHAPE OF WATER feels like an inevitable fairy tale, a primal scream for the little guys, and a treatise on following love in your life always. It's easily one of the best films of the year and one that I will never forget.
Glenn Gaylord
Super Reviewer
The Shape of Water Quotes
There are no approved quotes yet for this movie.
Discussion Forum
Discuss The Shape of Water on our Movie forum!