The Story Of A Cheat (Le roman d'un tricheur)
(1936)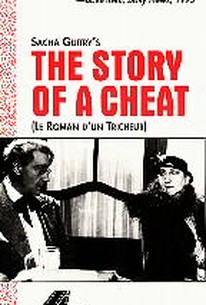 Movie Info
With its innovative storytelling and visual style, Guitry's clever chronicle of a charming crook's life has proven one of the most influential films ever made.
Critic Reviews for The Story Of A Cheat (Le roman d'un tricheur)
Audience Reviews for The Story Of A Cheat (Le roman d'un tricheur)
½
the film is from 1936, it is an absolute delight, reminding me a bit of 'kind hearts and coronets' and i certainly look forward to more of guitry's work. there's a nice eclipse set or try hulu plus
Stella Dallas
Super Reviewer
In "The Story of a Cheat," a 54-year old man(Sacha Guitry, who also wrote and directed) feels that it is finally time for him to write his life story in a cafe across the street from a house he used to own. That starts when he was a boy(Serge Grave), living in an extended household of twelve, of which he is the sole survivor when he is sent to bed without dinner due to stealing 8 sous to buy marbles, saving him from a lethal batch of mushrooms. A mutual agreement with distant cousins has him alone again, this time gainfully employed as a doorman before heading to Paris and trouble. "The Story of a Cheat" is a delightfully sublime movie about the role chance plays in our lives. Considering the unpredictability, there is really no sense in feeling guilty about things beyond one's control. What Guitry shows is a fine control over an innovative style that begins with the opening credits introducing the cast and crew which adds a little artifice to the proceedings. In detailing the man's life with the right combination of pathos and absurdity, almost the only words spoken are those of the narrator which might reflect this being made in the early days of sound.
The Story Of A Cheat (Le roman d'un tricheur) Quotes
There are no approved quotes yet for this movie.