Three in the Attic
(1968)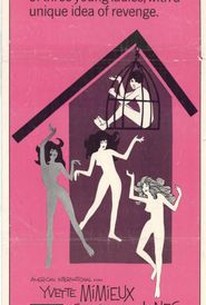 AUDIENCE SCORE
Critic Consensus: No consensus yet.
Three in the Attic Photos
Movie Info
A modern Don Juan pays the price when he "two-times" three different women. Paxton Quigley (Christopher Jones) is the campus Casanova who sleeps with Caucasian coed Tobey (Yvette Mimieux), the black beauty Eulice (Judy Pace) and the Jewish hippie girl Jane (Maggie Thrett). The three women discover the extra curricular activities of the man, and they seek revenge by locking Paxton in a attic where they feed him steak and try to kill him with sex. Soon Paxton goes on a hunger strike as the viewer is left to wonder whether or not a man's ultimate sexual fantasy can lead to his downfall -- or even death. What a way to go. Chad and Jeremy provide the music, which includes the title track in this feature plagued by lines like "Is it possible for a woman to be Jewish and psychedelic at the same time?"
Critic Reviews for Three in the Attic
All Critics (4) | Top Critics (2) | Fresh (2) | Rotten (2)
Mr. Jones and Miss Mimieux have a certain starlet diligence and charm - he, with Brando mannerisms in the use of his mouth; she, crying a lot, without the sense of ambition gone seedy that young actresses often acquire.
Audience Reviews for Three in the Attic
I had been curious about "Three in the Attic" for awhile, but it wasn't worth the wait. The story follows a dreamboat couple who meets in a freewheeling college environment. Cult hero Christopher Jones ("Wild in the Streets") stars as the memorably named Paxton Quigley, and Yvette Mimieux is the blonde goddess Tobey. They shack up together, but Paxton's eye soon strays to artistic, black Eulice (Judy Pace). Muses Paxton: "The question is whether a bigoted Negress and a bigoted WASP can find happiness together in the middle of Vermont." Paxton has enough trouble hiding Eulice from Tobey, but then he also meets Jewish flower-child Jane (Maggie Thrett). Uh oh. Influenced by his fraternity buddies' peer pressure, Paxton tries to juggle these three beauties, systematically dividing his nights and making ample use of the "I had to study late in the library" excuse. But Tobey eventually gets wise and joins forces with Eulice and Jane. They hatch a wicked plot to confine Paxton to an attic and literally sex him to death. The logic of this scenario is dubious, but we're asked to believe he decides to protest with a hunger strike rather than simply get up and leave. After awhile, he becomes so weak that escape is no longer feasible. But he has been reported missing, so campus authorities are on his trail. "Three in the Attic" doesn't have enough late-'60s color to be kitschy fun -- the only telltale elements are some gimmicky jump cuts and a few psych-pop tunes by Chad Stuart (of Chad & Jeremy fame). The film is also surprisingly unsexy beyond one scene with a bikini'ed Mimieux cavorting on the beach. The dialogue is not as lame as one might expect, however, and the school dean (Nan Martin) and Tobey's father (Richard Derr) are portrayed as informed adults rather than dowdy fools. Also notable are the unusual closing credits, in which a kvetchy, middle-aged pair talks over the score as if reacting to the movie. Man: "Say, honey, when's the last time we were in the attic, huh? You know what I mean?" Woman: "Forget it, Harry. There's not even standing room up there." Miraculously, this mediocre film spawned a sequel titled "Up in the Cellar" (or sometimes, "Three in the Cellar").
Eric Broome
Super Reviewer
Three in the Attic Quotes
There are no approved quotes yet for this movie.