Three of Hearts: A Postmodern Family
(2005)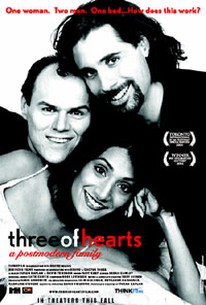 Three of Hearts: A Postmodern Family Photos
Movie Info
Steven, Samantha and Sam together form an amorous threesome, a "mariage-a-trois" of sorts. Their journey takes them from the more humorous and sensational aspects of such a relationship to moments that truly show the depth of their love and commitment to each other.
Critic Reviews for Three of Hearts: A Postmodern Family
Audience Reviews for Three of Hearts: A Postmodern Family
You are the ultimate voyeur in this three way..an attempt to have a family with three parents and an uneasy balancing act between two partners. You had to know that it would go off the rails but it is nonetheless something to behold.
John Ballantine
Super Reviewer
[font=Century Gothic]"The Dying Gaul" takes place in 1995. Struggling writer Robert Sandrich(Peter Sarsgaard) has written a script called "The Dying Gaul" which was inspired by his lover Malcolm who had died that year of AIDS. The studio is willing to buy the script for a million dollars but there is a problem. As the studio executive, Jeffrey(Campbell Scott) puts it - the American viewing public does not want to see a movie about gay men, so could he change the character dying of AIDS to a woman? Robert stalks off at first but then realizes there are more than a couple of things he can do with a million dollars like put his son through college. Jeffrey introduces Robert to his wife, Elaine(Patricia Clarkson), who used to be a screenwriter herself. At which point, Jeffrey becomes attracted to Robert. Complications ensue...[/font] [font=Century Gothic]"The Dying Gaul" is at its best when it is a condemnation of Hollywood's refusing to make any movies about gay men and lesbians("Brokeback Mountain" does come out next month.). When it makes a hard turn away from the political to the personal and even the new age, the movie weakens towards a very problematic ending. Peter Sarsgaard and Patricia Clarkson, being two of the best actors around, make this movie better than it should have been.[/font] [font=Century Gothic][color=#000080]"Three of Hearts" is a documentary about a rather unique relationship and family. The relationship consists of two men and a woman who are all in love with each other - Sam & Steven & Samantha. Sam and Steven were in love first before they decided to add a woman to the mix. At the beginning of the movie, Samantha has just become pregnant for the first time.(And she will also give birth to a second child.) I was surprised to see they all work together at the same wellness center.[/color][/font] [font=Century Gothic][color=#000080]The moral of the documentary is that we spend too much time self-analyzing. Also, we rely too much on labels to define ourselves.[/color][/font]
Three of Hearts: A Postmodern Family Quotes
There are no approved quotes yet for this movie.