Three Seasons
(1999)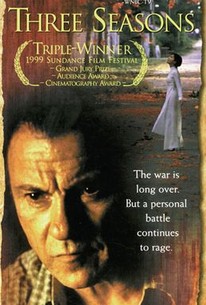 Movie Info
With sweeping directorial vision and a powerful poetic narrative, Tony Bui has created an enormously impressive feature debut about the "new" Vietnam. Weaving three stories (really four) into a striking pictorial tapestry, Three Seasons contrasts the traditional to the modern in a nation in the chaotic throes of transition. We meet four ordinary people living almost as strangers in their own land: a young girl hired to aid a reclusive spiritual master; a cyclo driver who becomes obsessed with a proud and ambitious prostitute; a very young boy hustling lighters, gum, and cheap watches from the case around his neck; and an American Vietnam vet searching for the daughter he has never seen. What ensues is images of lives struggling to find both place and meaning in a nation which won the war but may now be losing a piece of its soul. The rich diversity of American independent film is deepened this year by the Southeast Asian, melodramatic style of Bui's work. The usual hyperbole about craft and art can't describe the immense visual sensibility of this film. It's not an overstatement to say that more arresting lyrical beauty may not appear in another American film this year. As the first American film to be shot in Vietnam since the war, with a remarkable Vietnamese cast and emotionally provocative acting by the stalwart Harvey Keitel, Three Seasons achieves a pinnacle of excellence that is rare in filmmaking today.
Critic Reviews for Three Seasons
Audience Reviews for Three Seasons
½
A well-made ensemble drama setting in today's Saigon, directed by Tony Bui, a Vietnamese American filmmaker. It is a rare film that is produced by American foundation with almost all main crews being American (cinematographer, composer, etc.), but has strong and authentic mood of Asian (Vietnamese) films. Technically some parts of the film are a little bit unskillful, but the story is very well-polished and has overwhelming power. It has not new but solid structure in which several short stories interconnect. It focuses on lives of ordinary citizens (cyclo driver, prostitute, flower seller, street children, etc.), but they are, I think, a little bit idealized too much (especially conclusions). Vietnamese casts are all great, and only an American cast, Harvey Keitel, who also produces, shows very impressive performance even though he does not appear much in the film.
Naoya Kugimiya
The best shot movie I've seen in a long time. Most of the story is told through film's gorgeous cinematography.
Kervin Smith
If you want to see a movie about Vietnam that is not soley based on the conflict, I suggest you watch this movie.
Lisa Tran
Three Seasons Quotes
There are no approved quotes yet for this movie.