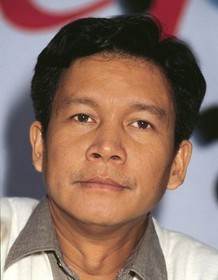 Đơn Dương
Highest Rated: 78% Three Seasons (1999)
Lowest Rated: 61% Green Dragon (2001)
Birthday: Aug 27, 1957
Birthplace: Da Lat, South Vietnam
Acclaimed Vietnamese actor Don Duong's screen career began with a small part as an amputee veteran in the 1982 drama "The Statue," the first of many critically performances in his homeland. Internationally, his big break came in the 1999 film "Three Seasons," the first American film to be shot entirely in Duong's country since the end of the Vietnam War. Directed by his nephew Tony Bui, Duong played Hai, a rickshaw driver in love with a prostitute who has embraced Western culture in a profound way: she dreams of one day sleeping alone in an air-conditioned room. "Three Seasons" was a critical smash worldwide, and soon afterward, Duong left Vietnam to try his luck in Hollywood. There, he acted in the 2001 Vietnamese refugee drama "Green Dragon" and--more controversially--in the 2002 Vietnam War film "We Were Soldiers," as a North Vietnamese military commander. At home, Duong was excoriated for portrayals that were deemed a disgrace to the Vietnamese people and denounced by the Ministry of Culture and Information. He and his family were eventually permitted to immigrate to the United States. After struggling for years to receive a visa to return home, Duong finally had his request granted in 2011 but died before he could make his visit.
Photos
THREE SEASONS, Don Duong, Diep Bui, 1999
WE WERE SOLDIERS, Don Duong, 2002 (c) Paramount.
THREE SEASONS, DUONG don (left), 1999, © October Films
THREE SEASONS, DUONG Don (TOP), 1999, © October Films
THREE SEASONS, DUONG Don (left), 1999, © October Films