The Tingler
(1959)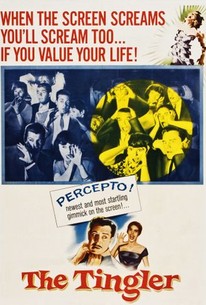 Movie Info
Dr. Warren Chapin is a pathologist who regularly conducts autopsies on executed prisoners at the State prison. He has a theory that fear is the result of a creature that inhabits all of us. His theory is that the creature is suppressed by our ability to scream when fear strikes us. He gets a chance to test his theories when he meets Ollie and Martha Higgins, who own and operate a second-run movie theater. Martha is deaf and mute and if she is unable to scream, extreme fear should make the creature, which Chapin has called the Tingler, come to life and grow. Using LSD to induce nightmares, he begins his experiment.
Critic Reviews for The Tingler
Audience Reviews for The Tingler
I love The Tingler. It's absolutely ridiculous but yet so much fun. I think William Castle's movies work best when the story is being ridiculous. This movie is a lot of fun and even managed to spook me a little. Really enjoyable. :)
Tim Salmons
Super Reviewer
This is one of those movies that you like because they're cheesy and silly. Castle's horror films were all gimmicky, and this one is no exception, but his gimmicks are fun and sort of give his films a cult status. I like this movie.
Scientifically sound stuff here. As most of you are aware we all have a tiny bug inside us that grows when we are scared, the only way to stop it from killing us is to scream. Screaming reduces its size. This is the wonderfully bonkers plot of The Tingler. Produced and directed by William Castle, this is a film that was made with gimmicks in mind. Castle was the kind of man to send skeletons on zip-wires and pay people to scream. It's evidenced here by an introduction by Castle. So this doesn't have the effect of the cinema, though I'm sure that was hardly terrifying itself. The film has some nice twists I didn't see coming, and Price's performance is very serious and believable. He isn't camping it up here.It takes a while to get going, but the freak-out scene had some bizarre creepy moments like a beasts arm throwing an axe. It's more interesting than it had to be, considering the gimmicks it was created for.
Luke Baldock
Super Reviewer
The Tingler Quotes
There are no approved quotes yet for this movie.