To Sir, With Love
(1967)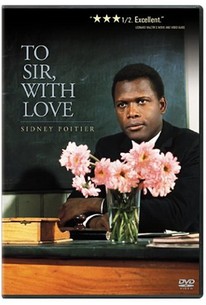 TOMATOMETER
AUDIENCE SCORE
Critic Consensus: While it's a bit dated and overly schmaltzy, To Sir, With Love remains compelling because of Sidney Poitier's outstanding performance -- and the catchy theme song is a classic.
Movie Info
A novice teacher faces a class of rowdy, undisciplined working-class punks in this classic film that reflected some of the problems and fears of teens in the 60s. Sidney Poitier gives one of his finest performances as Mark Thackeray, an out-of-work engineer who turns to teaching in London's tough East End. The graduating class, led by Denham, Pamela and Barbara, sets out to destroy Thackeray as they did his predecessor by breaking his spirit. But Thackeray, no stranger to hostility, meets the challenge by treating thestudents as young adults who will soon enter a work force where they must stand or fall on their own. When offered an engineering job, Thackeray must decide if he wants to stay.
Critic Reviews for To Sir, With Love
Audience Reviews for To Sir, With Love
It's interesting to see this movie after having seen Blackboard Jungle where Poitier plays the student, and now in this movie he's the teacher. The story is pretty good, but it's overly sentimental in the end if you ask me. It's an alright movie, though.
½
Sidney Poitier can go over the top (in the grand tradition of live theater, see "A Raisin in the Sun") or he can give a subtle delivery, as he does here, in To Sir With Love. It's not a terribly revolutionary film, but it's not pretending to be. It's a simple, well-thought out tale of a teacher who comes to a rough, inner city school and attempts to reach the kids by relating to them as adults rather than children. It's certainly not easy, as the kids have their own prejudices, against blacks, against authority figures, and against adults in general. An engineer by profession, Poitier takes the teaching assignment as a means of making a living while looking for work in his chosen field. It's a job that's not likely to be in high demand anyway, teaching kids in a tough east end London school. His first day, he's greeted in the faculty lounge by one of his cynical co-workers, who tells him to let the little monsters wither on the vine, as education isn't necessary in their lives. He has other ideas though, and seeks a way in which to break through to the students. Much like Poitier's earlier effort, "Lilies of the Field", it's a subtle, understated, yet totally dominating performance he delivers. So many actors (of any color) would be unable to play this role without infusing it with a certain level of martyrdom, but Poitier plays his character not as a saint, but as an intelligent and controlled man. The film is a relaxed, slow-moving, character-driven story that's never dull. In fact, it's actually quite sweet and charming.
Devon Bott
Super Reviewer
Although the music may seem a bit dated, To Sir, with Love is not. A timeless tale about coming of age, and one of the best in the "How I stumbled into teaching" genre. Sidney Poitier is excellent as the supremely sensitive teacher of students who are in great need a sensitive teacher.
I was just watching a program that dealt with, among other things, teaching Nathaniel Hawthorne to today's generation. One thing I kept thinking is that you actually have to love a piece of literature in order to teach it. If you do not love it, your students surely never will. Good teachers are born, not made. No amount of education, no bag of tricks, can make a good teacher out of someone who is not passionate about teaching.
Judy Geeson should have had a bigger career.
Lanning : )
Super Reviewer
To Sir, With Love Quotes
There are no approved quotes yet for this movie.