The Toxic Avenger
(1984)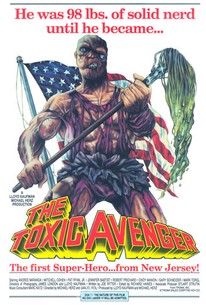 Movie Info
In a crazy spoof of heroic monster movies that spawned two sequels, The Toxic Avenger is about the transformation of a mild-mannered, scrawny janitor into a thundering, muscular hero out for justice, morality, and in one case, a bit of sex. Melvin (Mark Torgl) has a job as a custodian at a work-out club where his humiliating treatment by the musclebound reaches an ugly climax in which Melvin is forced to jump out of a window. He lands in a toxic waste truck, and by some miracle of modern pollution he is transformed into a pumped-up monster, heretofore known as the Toxic Avenger (Mitchell Cohen). From that moment on, TA saves damsels and others in distress by some pretty gory mauling and maiming but finds his moment of fulfillment too.
People Who Like this movie also like
Critic Reviews for The Toxic Avenger
Audience Reviews for The Toxic Avenger
Daniel J DeMersseman
Super Reviewer
For what this film is, it's brilliant, but I use that word very lightly. "The Toxic Avenger" is a disgusting romp with great practical effects (at times), and a wacky take on the anti-hero genre. I must say that I had a great time watching this film, but the on-the-nose cheese get's a little repetitive. Sometimes it feels intentional and other times it feels as though the writers thought this idea would work so well that they got cocky. After a nerd falls into a vad of toxic waste, he slowly transforms into something so gross that the town is terrified of him, although he means well. Falling in love with a blind woman, saving the town, and just having a weird feel to the movie all around, this is one of the most odd films I have ever seen. That is a compliment for this film though, as that is exactly what it was trying to be. "The Toxic Avenger" is what it is, and it is what it is in the absolute best way possible!
½
The most infamous of the Troma films, "The Toxic Avenger" features, what can only be described as, a mentally handicapped man who is turned into a monster via nuclear sludge. His voice changes, he gains super strength, and an ability to sniff out evil. He is given the power of destroying evil, and does so around town while the corrupt police try to catch him. The film is pure exploitation, which includes: child murder, eye gouging, and attempted rape of a blind woman. After all the unfortunateness of the evildoers, and the violence that the avenger enacts, the story becomes very campy. "Toxie," as he is called, becomes Tromaville's superhero, gets a girlfriend, and tries to foil the evil deeds of the corrupt mayor. While this film may be upsetting for some, because of its violence, it stands as one of the better camp films of the eighties. If we're picking incongruities, the ending was nonsensical, but that's a bit of a nitpick when you take into account the nonsensical nature of the entire film. A very fun film throughout, this is not for those who get easily offended or find violence off-putting.
Spencer S.
Super Reviewer
The Toxic Avenger Quotes
| | |
| --- | --- |
| Mayor Belgoody: | Fine, I'll do it myself. |
| Mayor Belgoody: | Fine, I'll do it myself. |
| | |
| --- | --- |
| Wanda: | I love it when we go real fast and they never know what his them. |
| Slug: | love the sound of breaking bones. |