Triumph des Willens (Triumph Of The Will)
(1935)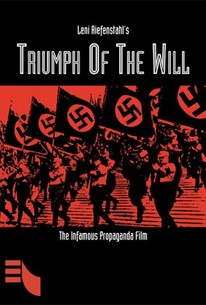 Triumph des Willens (Triumph Of The Will) Photos
Movie Info
Triumph of the Will (Triumph des Willens) is a filmed record of the 1934 Nazi Party Convention, in Nuremberg. No, it is more than just a record: it is an exultation of Adolf Hitler, who from the moment his plane descends from Valhalla-like clouds is visually characterized as a God on Earth. The "Jewish question" is disposed of with a few fleeting closeups; filmmaker Leni Riefenstahl prefers to concentrate on cheering crowds, precision marching, military bands, and Hitler's climactic speech, all orchestrated, choreographed and illuminated on a scale that makes Griffith and DeMille look like poverty-row directors. It has been alleged that the climactic rally, "spontaneous" Sieg-Heils and all, was pre-planned according to Riefenstahl's specifications, the better to take full advantage of its cinematic potential. Allegedly, propaganda minister Joseph Goebbels resented the presence and intrusion of a woman director, but finally had to admit that her images, achieved through the use of 30 cameras and 120 assistants, were worth a thousand speeches. Possibly the most powerful propaganda film ever made, Triumph of the Will is also, in retrospect, one of the most horrifying. ~ Hal Erickson, Rovi
News & Interviews for Triumph des Willens (Triumph Of The Will)
Critic Reviews for Triumph des Willens (Triumph Of The Will)
Audience Reviews for Triumph des Willens (Triumph Of The Will)
½
To make it clear: propaganda is not documentary; that said, however dull it may be, this film is a remarkable piece of monstrous propaganda that should be regarded today as a history lesson and as an insightful documentary about the power of propaganda on the weak-minded.
Carlos Magalhães
Super Reviewer
Propaganda films of the first part of the twentieth century were usually not so explicit in their message. Many political messages were more often cloaked in storytelling. One of the more blatantly political and thoughtfully directed in propaganda films, "Triumph of the Will" is artfully mastered and generated enough interest in the party to make them seem more a superpower and certainly a threat. Leni Riefenstahl, now infamous and left to live to speak on her work, supposedly was not aware of the anti-Semitism that was exhibited within the party or the proceeding steps of the Third Reich. The film itself is set at the 1934 Nazi Party Convention in Nuremberg. During the film Germany is shown as a free land full of healthy, rosy cheeked young people, adoring crowds to cheer at the Fuhrer's arrival, and long, uninterrupted speeches on the economy, how great their leader's policies are, and the new Germany, strong after its thrashing after World War One. Not included in the film are any mentions of anti-Semitism or the country's view of the rest of Europe, which is strange since it was an obvious point in many areas of the Nazi Party, and seem to be omitted on purpose. The film itself is beautifully shot, relying on a sharp cinematography to weave in and out of shots of the people involved. Every speech Hitler gives is passionate, angry, hopeful for the sake of his peoples, and every time they pan to the crowd or the other politicians, they are always intent on listening. As he passes by in his car the crowd is ecstatic, giving him flowers, children running in the streets unbidden. It's an uplifting view of the party, and the first instance of bold imagery, and using film techniques to envision the world in a way that it is obviously not. Though it drags, and becomes heavy-handed with all the political speeches and how obvious the lies are, it's still an amazing look into the evolution of documentary films and the charisma of a dictator.
Spencer S.
Super Reviewer
It drags at times, becoming a little bit boring, but other than that, Triumph of the Will is the greatest propaganda film ever made. The cinematography gives it an epic feel, the music compliments the film nicely, and, as a historical document, it is a compelling look into the power held by Adolf Hitler and his followers.
Chris Weber
Super Reviewer
Triumph des Willens (Triumph Of The Will) Quotes
There are no approved quotes yet for this movie.