Trollhunter
(2011)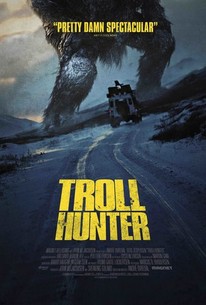 TOMATOMETER
AUDIENCE SCORE
Critic Consensus: Trollhunter is a mockumentary with an appropriate level of creeping dread, but one that also benefits from generous helpings of dry wit.
Movie Info
Shot in a vérité style, Trollhunter is the story of a group of Norwegian film students that set out to capture real-life trolls on camera after learning their existence has been covered up for years by a government conspiracy. A thrilling and wildly entertaining film, Trollhunter delivers truly fantastic images of giant trolls wreaking havoc on the countryside, with darkly funny adherence to the original Norwegian folklore." -- (C) Official Site
People Who Like this movie also like
News & Interviews for Trollhunter
Critic Reviews for Trollhunter
Audience Reviews for Trollhunter
½
A nice piece of sci-fi, taking Norwegian mythology and bringing it into the present day with reasonable scientific justifications, whilst the amateur documentary style film making adds realism without resorting to any Hollywood-style sudden scares. It presents itself as a serious documentary, but doesn't take itself seriously with lots of nice tongue-in-cheek moments played out with deadpan humour. Despite the amateur-style filming, the movie is really well produced and the trolls are spectacular.
Ross Collins
Super Reviewer
This verite styled, fake documentary, is both obviously raucous with funny dialogue, characters, and playful images, and thrilling as it centers on a long upheld conspiracy by the Norwegian government. The film starts as a documentary made by several college kids, looking for the identity of a bear poacher who has been killing rogue bears around the countryside. They end up meeting and stalking a man named Thomas (Trosterud), who seems atypical and suspicious. The rest of the film follows the wayward kids as they follow Thomas on his many missions through the cavernous mountains and lush forests of Norway, killing wayward trolls. Trosterud gives an interesting performance as the sullen and reserved Thomas. He always speaks with affinity, gives away information on his profession without seeming to care about the consequences, and is gruff and bad mannered at times. Though he seems not to care about what will come when he reveals all his secrets, it's obvious that there's a laid plan for what he will do once everything is unearthed. The trolls themselves are really well designed. They move like real animals, and they have castes and species differentiation that make them unique and tangible for the audience. The way they roam the mountains in family structures makes them as predatory as any frightening beast in nature. The other supporting characters are oftentimes officials and other people in the conspiracy, who don't want the tape to get out, but at the same time they are more concerned with the fleets of huge trolls killing off everything in sight. The documentary crew aren't seen very much, but they act like real college kids, with all the confidence of youth and the problems of that age as well. Some of the visuals are incomparable in how amazing they seem, how vivid and realistic they come across, and this movie is worth watching just for that. The Norwegian countryside serves as a moody backdrop as well as a beautiful setting. It's also pretty funny at times, whether it's a lewd performance by a Polish bear trapper, or Thomas' mannerisms during his interviews. This film can be highly recommended for a plethora of reasons, plus there are trolls. Very little to lose in watching this.
Spencer S.
Super Reviewer
½
This Norwegian found footage film teams up University filmers with a trapper who turns out to hunt trolls for the government, top secret, mind you. Their unlikely adventures in the Norwegian wild are as funny as they are unsettling. The creature effects are not entirely en par with Hollywood standards, which also gives the film a more light-hearted note than probably intended. That doesn't change the fact that the gorgeous landscapes and the wonderfully grumpy main character make for a great combination, a highly entertaining horror film that parodies both found footage films and documentaries, yet works as both. Extremely amusing and a surprisingly fresh take on a genre that should have been dead five minutes after Blair Witch Project ended.
Trollhunter Quotes
| | |
| --- | --- |
| Hans: | Anyone need some gravel? |
| | |
| --- | --- |
| Thomas: | Now we know that Trolls also explode. |
| | |
| --- | --- |
| Hans: | No one here believes in God or Jesus? |
| Thomas: | Nope. None of us. |
| Kalle: | Don't look at me. Serious? Because they can smell the blood of a Christian man? |
| | |
| --- | --- |
| Thomas: | In a sense, you're a true Norwegian hero. |
| Hans: | No, you're wrong about that. There's nothing heroic about what I do. It's dirty work. |