The True Story of Jesse James
(1957)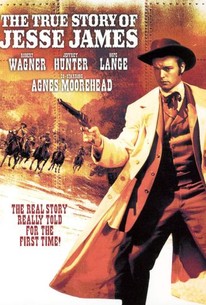 The True Story of Jesse James Photos
Movie Info
Actually, this retelling of the life of outlaw Jesse James is only as true as its predecessor, the highly fanciful 1939 Tyrone Power-Henry Fonda starrer Jesse James. Generous chunks of stock footage from the earlier film are reused here, albeit reframed to accommodate the CinemaScope process. Robert Wagner makes an interesting James, though he is upstaged throughout by Jeffrey Hunter as his brother Frank. Adhering to the Canon, the film insists that the James boys were forced into a life of crime by greedy railroad men -- hence, their ongoing vendetta against trains. Director Nicholas Ray adds a few psychological nuances not found in the more prosaic 1939 film. John Carradine, who played "dirty little coward" Bob Ford in the original Jesse James, appears in the remake as Rev. Jethro Bailey.
Critic Reviews for The True Story of Jesse James
Audience Reviews for The True Story of Jesse James
½
Average western with a haircut performance by Robert Wagner and a rather bland one by Jeffrey Hunter. Even the usually excellent Hope Lange and Agnes Moorehead are given very little to work with here.
½
The performances and direction feel totally phoned in. The few nice moments it does have are outweighed by a really lack luster effort.
Ken Stachnik
Super Reviewer
½
A remake of Henry King's "Jesse James" which introduces the Younger Brothers, ups Jesse's Robin Hood-like philanthropy and blames treacherous Yankees, rather than the railroad, for turning a good man into an outlaw. Some scenes are almost identical to the earlier film but the narrative is told in flashbacks this time around. John Carradine, who originally played Robert Ford, returns as a preacher in this, Nicholas Ray's version. Despite wooden acting throughout, this is a solid, good-looking western. I especially liked the idea of the souvenir-hunters taking trophies from the 'Howard' home after Jesse's death.
The True Story of Jesse James Quotes
There are no approved quotes yet for this movie.