Tube
(2004)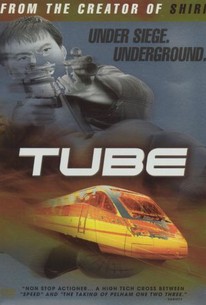 AUDIENCE SCORE
Critic Consensus: No consensus yet.
Movie Info
Still haunted by the untimely death of his lover during an assignment gone horribly awry, police officer Jay (Kim Seok-hun) now spends his days as a detached subway cop who has seemingly lost his soul. Pickpocket Kay (Bae Du-na) has become infatuated with Jay and when former government assassin Bishop (Park Sang-min) hijacks a subway car, the obsessive Kay tips off Jay and the two end up in Bishop's target car when the hijacker makes his move. Realizing that this may be his one chance for redemption, Jay vows to bring down Bishop and save the lives of countless Korean citizens.
Critic Reviews for Tube
All Critics (3) | Top Critics (2) | Fresh (2) | Rotten (1) | DVD (3)
What's unfolding for the most part is fun and exciting, but unfortunately it isn't always fully clear.
Some critics are touting Korea as the new Hong Kong, but Baek never gets out from under his H.K. precedents.
A nonstop, edge-of-your-seat, 80-minute thrill ride.
Audience Reviews for Tube
Korean hostage thriller that tries to mimic the big budget blockbusters from Hollywood like Speed, Die Hard and Under Siege. It's a pretty fair attempt and provides enough excitement and action during its near two hour duration, but it treads old ground and doesn't come up with any new ideas or surprises. A worthwhile watch though if you like action thrillers.
½
Baek Woon-hak delivers Tube, which is Korea's answer to Under Siege 2: Dark Territory. This is not a remake. It is just similar in concept. Funny thing is the tag line for this film is: Under Siege. Underground.
Anyway, the plot for this story is a decent one, but there is room for more. Most of the movie takes place on a subway train as well as it should and the 1 hour 50 minute film will not necessarily fly by. It will not take forever though. After a pretty good shootout in the beginning there is a bunch of character buildup for the hero, Jay, and the second hero, Kay. This buildup works wonders for the ending. There is also some good background for the head villain. The rest of the villains are forgettable. This is a shame since there are very few of them, so there is room for emphasis on these characters as well.
There is a decent amount of action with some great suspense. The hero and the villain even bang heads more than once. The fire fights are nicely done and the brawls aren't too bad either.
Seok-hun Kim pulls off a decent hero in Jay and he will remind many people of Chow Yun Fat. Don't believe me? Watch this and you will see. Bae Doo-na, of The Host fame, is a great supporting character. Sang-min Park is an OK villain and the rest of the supporting cast is more than mediocre.
Tube isn't anything original, but that doesn't make it any less of a great thrill ride. This is for fans of Korean action thrillers.
Cool Asian action movie in the city's subway, but ends up being an action-packed rip-off. Kim Seok-hun is a great action hero as well.
Steven Vincent Gee
Super Reviewer
Tube Quotes
There are no approved quotes yet for this movie.