Turning Green
(2005)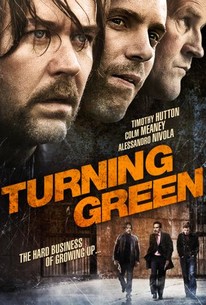 Movie Info
Un adolescente es forzado a vivir en Irlanda tras la muerte de sus padres pero anhela con volver a EEUU.
Critic Reviews for Turning Green
Audience Reviews for Turning Green
Cast: Timothy Hutton, Alessandro Nivola, Colm Meaney, Donal Gallery Director: Michael Aimette, John G. Hofmann Summary: Sent to live with his aunts in Ireland, sex-obsessed teen James (Donal Gallery) goes to work for a bookie (Alessandro Nivola), trying to raise enough cash to return to the States. But when he discovers nude magazines on a trip to London, James dreams up a better business plan. Back in Ireland, the porn-peddling entrepreneur finds his adult contraband in high demand. Colm Meaney and Timothy Hutton co-star in this film set in 1979. My Thoughts: "It was a good little indie drama. It's a bit gritty in some spots and most definitely would fit in the dark comedy category. The relationship James has with his Aunt's is pretty comical and a little embarrassing. I liked his back handed comments. The relationship between James and his brother Pete is quite special. You see how much James loves his brother and how tight their bond is. James desperately wants to escape Ireland with his brother to America. But throughout the film it's unsure if Pete wants the same. By the end of the film it gets a bit intense. *SPOILER* I felt awful that James and Pete are separated in the end considering that James wouldn't be going back to Ireland because of outcome at the shore.*END OF SPOILER* All in all not a bad little indie flick. Worth taking a look at."
♥˩ƳИИ ƜѲѲƉƧ♥
Super Reviewer
½
Funny and fresh comedy from Ireland. It doesn't go for the typical jokes you'll see in most coming-of-age movies and the writers don't try to hit you over the head with the joke - rather, they give the audience enough credit to follow along for the ride. Not sure why Timothy Hutton has such a high billing, since he's not that important in the narrative - I guess that's marketing for you. One small complaint is the ending just didn't seem to work along with the rest of the movie. Overall, it's quirky, indie, funny and wistful, but it gets wrapped up a little too quickly and violently (I hope I'm not giving much away). Otherwise, I'd have given it a 100. Very good movie and a nice alternative for discerning audiences!
M 12345
½
A nice and very funny indie comedy, starring a fantastic young actor from Ireland by the name of Donal Gallery. He's the star of the film, carrying the movie with his sharp wit and wonderful humor. TIm Hutton in particular is almost unrecognizable as Bill the Breaker, but he's hard to understand as he mumbles almost all of his lines. Still, it seems he had a lot of fun doing the role. The acting is sharp all around, but Donal is the star as the dour 16 year old James. It's funny and a bit sad - which might seem a bit incongruous at times, but it really works. The dialogue is clever and it really reflects Ireland in the 1970s - surprising that the script was written and directed by two Americans - it's spot-on. If any of you have Irish roots or family in Ireland, you're sure to recognize some of the characters. The porn magazine angle is really incidental in some ways - the boys are pretty innocent and it isn't what drives the movie. James and his brother are more naive than anything else. I didn't love the ending which doesn't fit as well as the rest of the script - but overall it ends on a wistful note, finishing up a bittersweet and thoughtful portrayal of a teenager with misguided dreams. A great debut -- for Donal Gallery, and a fresh take on a genre for two talented new directors.
Suzy ONeill
Turning Green Quotes
There are no approved quotes yet for this movie.
Discussion Forum
Discuss Turning Green on our Movie forum!