Vampire Hunter D: Bloodlust
(2001)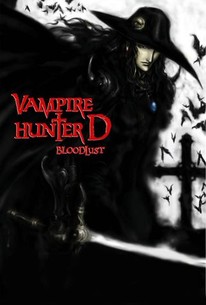 Vampire Hunter D: Bloodlust Photos
Movie Info
Long a favorite with Japanimation aficionados, Vampire Hunter D is based on the third of Hideyuki Kikuchi's novels about a futuristic human-vampire hybrid warrior. In the year 12,090, vampires are the rulers of the night, something to which Vampire Hunter D is helping to put an end. After the daughter of a rich man is kidnapped by vampire Meier Link, Vampire Hunter D is hired for ten million dollars to find the girl and bring her back to safety.
Critic Reviews for Vampire Hunter D: Bloodlust
Audience Reviews for Vampire Hunter D: Bloodlust
Just as good as the original, but with more modern art. I do wish the English voice soundtrack was louder though, I nearly ran out of volume bars.
½
An adventure/action/drama ride done right. You really don't need to know anything about the novels to get into the film. Yoshiaki Kawajiri deserves way more credit as being a mere "cheap thrill" director. The guy knows how to create cinematic moments.
Tsubaki Sanjuro
Super Reviewer
Easily one of the best anime movies ever made. Athough I'm not a big fan of vampire flicks, I loved the story, characters and animation. If you ever get the chance, see it!
Vampire Hunter D: Bloodlust Quotes
There are no approved quotes yet for this movie.