Videodrome
(1983)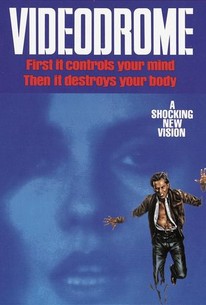 TOMATOMETER
AUDIENCE SCORE
Critic Consensus: Visually audacious, disorienting, and just plain weird, Videodrome's musings on technology, entertainment, and politics still feel fresh today.
Movie Info
In this David Cronenberg film, a strange television show called Videodrome, which shows uncut, unedited films of seemingly real human torture and murder, is intercepted by cable-television programmer Max Renn (James Woods) who specializes in soft-core pornography. Fascinated, and hoping to duplicate some of what he sees for his own audience, Max searches to discover the show's producer and place of origin. He also begins an intense sadomasochistic affair with the mysterious Nicki (Debbie Harry).The scene where Max meets Nicki on a television talk show and seduces her -- to the great consternation of the hostess -- is hilarious. Along with a more than academic interest in shape objects and Swiss army knives, Nicki is also drawn to Videodrome, but wants to be a participant rather than part of the audience. When she disappears, Max becomes obsessed by his search, which leads him to a the daughter of a mysterious media guru, Bianca O'Blivion (Sonja Smits). What he discovers both frightens and fascinates Max, leading to the unusual and ambiguous conclusion. James Woods brings great intensity and an off-beat sensuality to the character of Max. Rock star Debbie Harry is sexy and intriguing as the very kinky Nicki. The film is marred by some thematic inconsistencies and an unsatisfactory conclusion, but Cronenberg, who wrote and directed, creates a dark and mesmerizingly atmospheric vision.
People Who Like this movie also like
Critic Reviews for Videodrome
Audience Reviews for Videodrome
½
There is a very thought-provoking idea about mass media control and paranoia in this strange hallucinogenic film, but despite that and the exceptional visual effects, it is rather confusing (not in a good way though) and does not flesh out (yes, there you are) its premise so well.
Carlos Magalhães
Super Reviewer
"Videodrome" is undeniably original and it boasts from extremely impressive visuals for it's time, but it sometimes goes way over the top and becomes almost too disgusting to watch, which is not necessarily a bad thing, seeing that the visuals are brilliantly done. Max Renn (James Woods) discovers a new show called Videodrome, which has been found to create hallucinations in peoples minds, eventually leading to death. The hallucinations that Max succumbs to are very very interesting for the first few times, but it becomes so disgusting that you almost turn your head and laugh at the writers. Still, overall, this film is extreme on all levels, with great witty writing, fantastic visuals for it's time, a very good cast, and a story worth telling. "Videodrome" is fantastic!
½
A truly fascinatingly disturbing film. The idea of how humanity is so dependent on technology, its not just a necessity, its becoming part of us. Featuring some unsettling topics, such as hardcore snuff films and brain tumors, Videodrome will not be the most pleasant ride for anyone. As well as and superb effects, Videodrome is topped with a strong performance from James Woods, who I felt wasn't the most sympathetic character or someone you could connect with, but it was one performance that stood out regardless. David Cronenberg's Videodrome has a chilling message, which is rather relevant for today, on how technology is becoming more advanced, which then leads to the demand in explicit/graphic entertainment rise. This may not entertain everyone, however, its power and messages should be looked at in detail.
Samuel Riley
Super Reviewer
Videodrome Quotes
| | |
| --- | --- |
| Max Renn: | Death to Videodrome! Long live the new flesh! |
| | |
| --- | --- |
| Max Renn: | Long live the new flesh |
| Max Renn: | Long live the new flesh. |
| | |
| --- | --- |
| Max Renn: | I'm looking for something...tough. |
| Max Renn: | I'm looking for something... tough. |