A View to a Kill
(1985)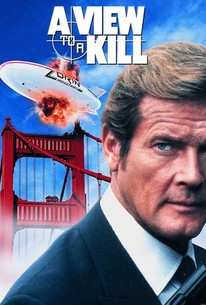 Movie Info
Director John Glen tries his damnedest -- a pre-credit snowmobile chase, a parachute jump off the Eiffel Tower, a life-or-death struggle with a blimp on top of the Golden Gate Bridge -- to inject some life into this fourteenth episode of the long-running James Bond series. A View To A Kill also marks the departure of Roger Moore (who puts in his last appearance as James Bond here) and series regular Lois Maxwell (who played Miss Moneypenny since the inception of the series in Dr. No). The story kicks into gear when arch-fiend, Max Zorin (Christopher Walken), a mad, power-crazed industrialist, attempts to corner the market on computer chips by doing it the old-fashioned way -- i.e. destroying Silicon Valley with a well-placed earthquake. Bond is sent out to stop him. In Europe, Bond is partnered with Sir Godfrey Tibbet (Patrick MacNee), but when he travels to the States, he is joined by hot and sexy geologist Stacey Sutton (Tanya Roberts). Sent in to slow down Bond and Company is Max Zorin's sadistic and murderous sidekick May Day (Grace Jones).
People Who Like this movie also like
News & Interviews for A View to a Kill
Critic Reviews for A View to a Kill
Audience Reviews for A View to a Kill
½
Feast your eyes on the last and weakest entry in the Roger Moore era of James Bond flicks. "A View to a Kill" follows a much older looking bond as he rides horses, takes down blimps, and runs on top of a bridge. With a laughable villain in Christopher Walken, there is some enjoyment to be had with this film, even though it is not good enjoyment. With one-liners at a new low, a villain that is not interesting, excess build-up to a disappointing finale, and an atmosphere that is way too far from the feel of bond, this film fails on many levels. Aside from a few cool action bits spread throughout, everything else feels uninspired. This is one of the worst films of the franchise by far. "A View to a Kill" is just plain dumb.
½
The 14th Bond film and finale for the Roger Moore era ends his tenure on a flat note, showing us everything that was not up to par with Connery's era while also proving that Bond still can deliver great action set pieces even when the story and script aren't as strong. These films are always technically well made. A View to a Kill is, however, the worst Bond film since Live and Let Die (my pick for the worst of the series) and almost gives it a run for its money. Ultimately, I just barely prefer this one because it doesn't have the blaxploitation that Live and Let Die had. The plot is incredibly weak despite having a decent villain in Christopher Walken and a good side villain in Grace Jones. Tanya Roberts character starts off strong, but by the end she is just the typical damsel in distress Bond girl who can barely act and constantly screams for help. Roger Moore is sleep walking through the role at age 57 and probably should not have been involved with the past two installments. The action is pretty good, especially the finale on the Golden Gate bridge, but it's all for naught. Overall, Roger Moore had a couple decent Bond films, but his era was mired in mediocrity and put the franchise in jeopardy before the mantle was passed on to Timothy Dalton. He was done with the role two movies ago, and so was the audience (evident by the low box office numbers).
Josh Lewis
Super Reviewer
½
Roger Moore's final turn as James Bond, despite being entertaining (if not always for the right reasons) is a rather unremarkable entry in the series, and I guess a good enough way to end my least favorite (overall) era. This time around a crazy computer industrialist named Max Zorin plans a devious scheme to get rid of his competitors in Silicon Valley. Okay, sounds fine I suppose. But, to do that, he wants to trigger an earthquake that will flood the entire valley. That's really over-the-top, even for a Bond villain. I used to dig this one, but it's lost some of its charm over time. Yeah, Grace Jones is memorable as the lead hench(wo)man, if only for her statuesque presence, and there's something undeniably fun about seeing Christopher Walken in typical Walken mode as Zorin, but I dunno, this one is just kinda blah. I give it a slight boost because the action scenes are well staged, and, like I said, Walken really holds it together, but this is overall quite blah, uninspired, and really offers nothing all that fresh or interesting. At least it's watchable, but I question if it really needed to be 131 minutes in length.
Chris Weber
Super Reviewer
A View to a Kill Quotes
| | |
| --- | --- |
| Stacey Sutton: | It was granddad's ashes. But he always loved a good fight. |
| | |
| --- | --- |
| Tibbett: | (watching from a distance as we see Stacey for the first time in the film) Another wealthy owner? |
| Tibbett: | Another wealthy owner? |
| James Bond: | Who knows? But she certainly bear closer inspection. |
| Tibbett: | We're on a mission! |
| James Bond: | Sir Godfrey, on a mission I am expected to sacrifice myself. |
| | |
| --- | --- |
| May Day: | (Looks through Zepplin window at Golden Gate Bridge) Wow... What a view |