Volunteers
(1985)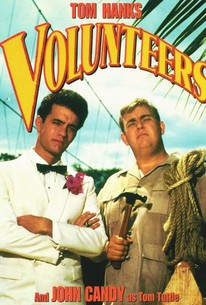 Movie Info
Tom Hanks and John Candy were reunited for the first time since Splash in this period comedy about Peace Corps worker during the optimistic period of the Kennedy presidency. Lawrence Bourne III (Tom Hanks) is an upper-class heel who has to flee the country to escape his gambling debts and so sneaks aboard an airplane filled with Peace Corps volunteers en route to Thailand. On the plane he is befriended by well-meaning Peace Corps worker Tom Tuttle (John Candy). Once in Thailand, the workers become involved with building a bridge, and Lawrence becomes involved with the local Communists, an opium lord, and the CIA.
News & Interviews for Volunteers
Critic Reviews for Volunteers
Audience Reviews for Volunteers
½
A fun movie, pretty well written, with a good cast, and everything else is pretty average for an 80s comedy. I wanted to rate this higher, but there were a bunch of stupid jokes thrown in that I thought the movie could have done without. Otherwise, it's an exciting, fun, charming little comedy. Overall I enjoyed it anyway, even though it's not the best it could be.
½
Not very strong but some scattered laughs and exotic Thailand locations. John Candy lends Tom Hanks a helpful comedy hand once again just like in Splash.
Doctor Strangeblog
Super Reviewer
Tom Hanks plays a rich Harvard snob Lawrence Bourne III, a Yalie with an upper-crust accent who joins the Peace Core to escape his gambling debts. Once on the plane, however, he has second thoughts and as soon as he gets off the plane, Lawrence literally goes down on his knees and begs the leader to send him back. But his pleas go in vain. Things begin to look up when an attractive fellow Corps woman, Beth (Rita Wilson) is assigned to the same village, along with an over-zealous but good-hearted engineer, Tom Tuttle from Tacoma, Washington (played by John Candy). However, Beth won't give him the time of day and Tom is a royal pain in the ass nevertheless the trio gets immersed in an elaborate scheme to build a bridge. Hanks and Candy are very humorous while Gedde Watanabe plays a local named Toon, a fast-talking kid who went to an American School in Bangkok who helps Hanks and Candy communicate with his people. Lawrence ends up building the bridge, but then realizes that it was a dreadful mistake, as he comes face to face with brainwashed Communists, deviant drug pushers and John Reynolds, as the crazed CIA operative, who names his Bowie knife "Mike." A piece of trivia for you to digest: It was on this movie set that Tom Hanks won the heart of his second wife Rita Wilson and the duo are still married to date.
Volunteers Quotes
There are no approved quotes yet for this movie.