We the Party
(2012)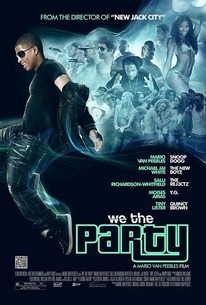 Movie Info
A revealing look at contemporary youth culture, writer-director Mario Van Peebles' We the Party shows teenagers as they are, not as adults would like them to be. Set amidst the latest trends in music, dance and fashion, We the Party is a colorful, cutting-edge comedy set in an ethnically diverse Los Angeles high school during America's first black president. The film focuses on five friends as they deal with romance, money, prom, college, sex, bullies, facebook, fitting in, standing out, and finding themselves. Evoking such classic teen comedies as The Breakfast Club and House Party but with an attitude and style all its own, We the Party captures the hopes, confusion, challenges and dreams of today's teenagers as they plunge headlong into an uncertain future. -- (C) Official Site
News & Interviews for We the Party
Critic Reviews for We the Party
Audience Reviews for We the Party
½
It's not the worst movie. The cast was too much i couldn't keep track. It is like every other high school movie out there nothing new here. The movie does grow on you after a while though.
Morgan Bane
½
The problem with this movie is that it didn't know what it wanted to be. At various points it felt like "American Pie" (1999), while at others it felt like "Dangerous Minds" (1995), and yet at times the dialogue felt like I was watching "High School Musical" (2006). Or was this supposed to be a music movie? If so, it didn't work too well. It had a really long rap battle scene, where you couldn't even understand what they were saying. If you want a movie like that, watch "8 Mile" (2002). I really didn't like most of the music in this movie--really it's not my preferred genre, so it's hard for me to judge if it was good or bad. I did like "Truth" by YG--mixing in Canon in D makes everything sound good. I think the movie would've been better if it stuck to a particular style. If they were aiming for cheesy teen movie, than they should've done that. If they were aiming for urban hardship and coming of age, they should've stuck with that. All mixed together, it ended up being mush. The movie deals with a socioeconomically diverse high school, and the teen problems within it. But again, it tried to deal with too much. It felt like there was no centralized plot, it dragged on, and there was often a feeling of "where are we going with this?" I think they should consider making this movie into a television series, that way they can deal with all the different characters and all the different situations one episode at a time.
Vincent D'Aniello
A movie with good intentions that has alot to say about youth. Unfortunately it has too many cheesy elements to recommend. It seems Mario Van Peebles directed this movie as a hipster rather than a serious filmmaker. Grade: C
Jimmy Rivera
We the Party Quotes
There are no approved quotes yet for this movie.
Discussion Forum
Discuss We the Party on our Movie forum!