What Happened to Monday
(2017)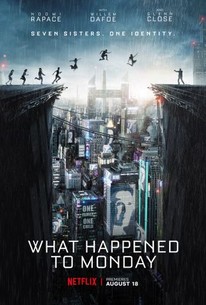 What Happened to Monday Videos
What Happened to Monday Photos
Movie Info
In a not so distant future, where overpopulation and famine have forced governments to undertake a drastic "One Child Policy," seven identical sisters live a hide-and-seek existence pursued by the Child Allocation Bureau. The Bureau, directed by the fierce Nicolette Cayman (Glenn Close), enforces a strict family-planning agenda that the sisters outwit by taking turns assuming the identity of one person: Karen Settman (Noomi Rapace). Taught by their grandfather (Willem Dafoe) who raised and named them - Monday, Tuesday, Wednesday, Thursday, Friday, Saturday and Sunday - each can go outside once a week as their common identity, but are only free to be themselves in the prison of their own apartment. That is until, one day, Monday does not come home...
Critic Reviews for What Happened to Monday
Audience Reviews for What Happened to Monday
Tommy Wirkola steps away from his typically fun style of filmmaking for this dark and tragic scifi. But a good director's a good director and despite being maybe a little more predictable than it thinks, not to mention Glenn Close trying her hardest to derail he manages to pull off What Happened to Monday. Extra special props to Noomi Rapace who successfully plays not seven as advertised but EIGHT different characters with virtually no overlap in characterisation.
½
Remember how China was only allowing one child per family? Well, the same thing goes here only we follow the exploits of one family that broke the law. Noomi Rapace plays seven parts and that's the high point here. She really does quite an excellent job. The sci-fi/dystopian future /political drama parts don't serve as well though as you've seen them all before and done better. Meh.
Kevin M. Williams
Super Reviewer
½
Overpopulation is a very serious thing that will affect future generations. I'm not the type of person who finds it appropriate to tell people how many children they can or should have, and why would you want more than 2 or 3 honestly. But it's getting to a point where something is gonna have to be done to slow this overpopulation down. China, for a while, I don't know if they still do, had a one child policy. And that, really, seems to be the best answer. But how in the fuck do you go about enforcing this policy? I'm honestly stuck in the middle. While I think a one-child policy is something that is seriously gonna have to be considered in the future, I also don't believe in telling people what to do with their bodies or their lives if they're both consenting adults and able to take care of the children they bring into the world. And, with a lot of these types of things, it's mostly gonna affect underprivileged people and put them in more danger. But I digress, this movie takes that concept to the extreme, where, if the government finds out you have more than one child, they take the youngest to this detainment center waiting to be 'processed' and put in cryosleep. This is obviously very important as they get deeper into this film's narrative and what exactly this bureau is doing with these children. But I will attempt to not spoil it, though it's relatively easy to figure out what's going on. The one-child policy is the brainchild (ha!) of this ambitious politician, Cayman, played by the amazing Glenn Close. She hopes that the success of her policy will lead to her getting elected for parliament. There's one problem with that plan, however, and that is the fact that septuplets (all played by Noomi Rapace, of course) have all grown to adulthood. Essentially, these sisters, all named after one day of the week, have assumed the identity of this one person, Karen Settman. They get to go out as Karen on the day of the week that is their name. How Cayman finds out that there's a group of septuplets that have grown into adulthood is one of the film's mysteries though, again, not one that's difficult to figure out. She has her agent and whatnot hunt down these women one by one. If it comes to be publicly known that these women are all adults now, it would ruin Cayman's reputation and her chance at parliament. So, simply put, that's the basis of the narrative. The sisters, essentially, have to fight off their prospective assassins after one of their own (Monday) goes missing. Having said all of that, I was legitimately really entertained by this movie. I don't think it goes as in-depth with its concept as it probably could, the two-hour window the film takes place in obviously holding it back, but it's a really entertaining and high-octane sci-fi/action flick. I think the movie suffers in comparison when compared to, say, a series like Orphan Black. Admittedly, part of me believes that in TV you can have longer and more complex arcs than you can in a film (as evidenced by series like The Wire, Breaking Bad and Game of Thrones), but there's also something to be said for the fact that this movie doesn't pretend to be super complex. I think one of the things I like most about it is how straightforward everything is. I hate to say that things are black and white here, since they're not, there's some shades of grey (particularly with the reveal at the end). But, for the most part, the sisters are the heroines, Cayman and her goons are detestable assholes and it just works that way. I do believe that the dynamic between the sisters, for the most part, is left relatively unexplored. They're clearly very dysfunctional and don't seem to get along with one another, as a result of the fact that they're only able to go out and interact with people one day of the week. Every other day they spend with their sisters and that can wear on you. There's also a few flashbacks to when they're little girls being raised by their grandfather and how one incident where Thursday loses the tip of her finger leads to everyone else losing it as well. But, really, that's the extent of it. Everything else is more the sisters growing closer as they're fighting off agents and guards. But the movie is interesting in that, while they don't bring it up a lot, it brings up some ideas about the nature of identity and how this one identity forces these sisters to be someone they're clearly not. I thought that was cool, not to mention later on when how one of the sisters feels that Karen Settman is hers and no one else's. Again, not super in-depth stuff, but I liked it regardless. As I mentioned, the film works if you're looking for something that's fast and exciting to watch. While I do understand that the film needed to have some moments in order to tell their story, I do wish there was more scenes related to the sister dynamic after they start being hunted down. This is a SPOILER for Flixster, but they start killing off sisters fairly quickly. Again, I understood the reasoning behind it, but the deaths, for the most part, felt a bit anticlimactic. It just didn't natural to me. The personalities of the sisters are a little one-dimensional, but it gives Noomi Rapace (who's great n this movie) a chance to show some of her range. While I had a great time watching this movie, but I'm not exactly sure how to score it. I don't know if it's just a good movie that I really liked or if I legitimately thought it was very good. I think I'd recommend this either way. It's difficult, because I'm leaning both ways. I think the movie doesn't go as in depth with its world to be one of the sci-fi greats, that much is obvious. But it's also very successful at providing a story that has you hooked from beginning to end. Glenn Close and Noomi Rapace are great in their roles and the action is fun. I can't overlook its flaws and it's not a great movie. But, honestly, I think I'd feel comfortable giving this 3.5 stars. I'm not gonna say I feel 100% comfortable giving it this rating, but I'm comfortable enough. I just felt that the good stuff in this movie outweighed its flaws. I'd give this an easy recommendation either way, at the very least it's a good movie. So I can't really complain about that in the slightest.
Jesse Ortega
Super Reviewer
What Happened to Monday Quotes
There are no approved quotes yet for this movie.