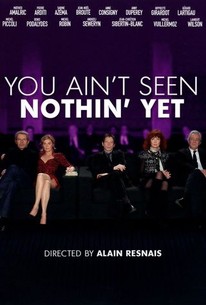 You Ain't Seen Nothin' Yet
2012, Drama, 1h 55m
35 Reviews
250+ Ratings
Rate And Review
You Ain't Seen Nothin' Yet Photos
Movie Info
A who's-who of French actors are summoned to hear the reading of a playwright's last will and testament. They are asked to view a recording of a play in which all have starred over the years, and as video rolls, they all act out their old roles.
News & Interviews for You Ain't Seen Nothin' Yet
Audience Reviews for You Ain't Seen Nothin' Yet
In "You Ain't Seen Nothin' Yet," famed playwright Antoine d'Anthac(Denis Podalydes) has died. His last request is for some of his favorite actors and other creative collaborators to meet at his house. What he would like them to do is judge a new version of his play "Eurydice" performed by a warehouse theatre group who apparently spent most of their budget on a cool looking pendulum. Even with one seriously wonky framing sequence, director Alain Resnais, with his penultimate film "You Ain't Seen Nothin' Yet," turns two of his favorite obsessions, theatre and surrealism, into a mindblowing experience. Throughout the body of the movie, with a little help from split screen, he seamlessly combines three productions of a play(starring Sabine Azema & Pierre Arditi, Anne Consigny & Lambert Wilson and Vimala Pons & Sylvain Dieuaide respectively) that occasionally inhabit the same space.(Thus proving we have to find out to how to clone Mathieu Amalric.) This is no mere experiment as it allows the viewer to not only see the differences in various adaptations but more specifically in how the actors interpret the work.

I'd be tempted to think the film was all just some pretentious exercise if it wasn't so moving. Resnais (who's 91 by the way) has put together something totally remarkable here, as he combines so many different styles and still manages to make the film thematically consistent.

Interesting. For a while. The first hour of the film is quite fascinating and the acting is strong. But then it switches to autopilot and the originality of the approach of the beginning wears out. The ending is a bit rushed too.

The theatricalization of Cinema as intended by Resnais may be absorbing at first as it explores a touching sense of nostalgia from the characters/actors, but this scene play is not compelling enough to deserve two hours, becoming artificial and vapid after a while.
See Details