Zatoichi Meets Yojimbo
(1970)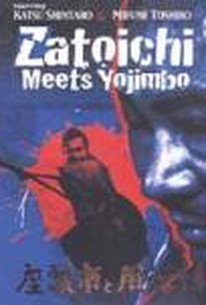 AUDIENCE SCORE
Critic Consensus: No consensus yet.
Movie Info
In Zatoichi vs. Yojimbo, one of many Japanese samurai films starring the blind swordsman Zatoichi (Shintaro Katsu), he has to battle Yojimbo (Toshiro Mifune), the title character from Akira Kurosawa's famous film. At the beginning of the film, Zatoichi is planning on retiring, yet his village is besieged by outlaws; eventually he fights, then befriends Yojimbo on his way to securing his village. The movie is a light-hearted parody of samurai films and a comic take on the genre, boasting a wonderfully funny performance from Mifune. ~ Stephen Thomas Erlewine, Rovi
Critic Reviews for Zatoichi Meets Yojimbo
All Critics (3) | Fresh (3) | Rotten (0) | DVD (2)
Any reprisal of the Yojimbo character is a welcome one, even if the pairing of these two cinematic legends didn't quite produce as much chemistry as hoped for
Audience Reviews for Zatoichi Meets Yojimbo
The 20th film in the Zatoichi saga, Zatoichi Meets Yojimbo is one of the most well known and features a great performance from the legendary Toshiro Mifune as Yojimbo (bodyguard). Katsu and Mifune play off each other brilliantly and are what really helps keep the film entertaining over it's nearly 2 hour running time, the longest in the long running series. The film is numerous in it's twists and turns and there are many characters and sidestories to keep track of as well, so while tedious to keep track of at times, there is still a lot to like here. Both the dialogue and battle sequences were well done and both hilarious and serious in parts, which helped with the uneven script. Still Zatoichi Meets Yojimbo is a good film overall and Mifune makes for a great contrast to Ichi and delivers as usual.
Chris Browning
Super Reviewer
I'm a fan of the Zatoichi series, and absolutely love Yojimbo and Sanjuro. To see the two come together was a mouthwatering prospect, but I was still concerned. It turns out, I had every reason to be. This isn't a bad film, but it's just too ambitious. The plot is needlessly complex, involving many characters and twists. It becomes confusing and easy to forget that this is a Zatoichi film. He becomes sidelined many times. The complex plot results in a longer running time, which can cause the film to drag. Mifune is a great co-star for Katsu, both of them have a wicked sense of humour and are similar on the inside, but luckily their performances are contrast with each other. It's doubtful that Mifune is playing "the" Yojimbo, but it's still good to see him n familiar surroundings. It's a good watch, especially for fans of Zatoichi or Mifune.
Luke Baldock
Super Reviewer
½
Mifune and Shintaro in one movie!! Hahaa!
Zatoichi Meets Yojimbo Quotes
There are no approved quotes yet for this movie.